Credit: Peter & Bridgette Weddings
15 Bridal Party Gifts Your Bridesmaids Will Love Long After the Wedding
One of the things that makes your wedding day so special is getting to share it with those closest to you, especially the family members and friends you choose to make a part of your bridal party. Not only will they stand by your side as you say your vows, but they will also help plan your bridal shower and bachelorette party—and calm your nerves when wedding planning gets super stressful!
With that in mind, it's important that you find ways to thank them for playing such an important role in your wedding, including handing out some special gifts that they can use on the big day and beyond.
What's a bridesmaid gift?
The bridesmaid gift is an item(s) that you hand out to members of your wedding party to thank them for being a part of your day. The family and friends you asked to take on these roles have spent time and money to make your wedding day special, so giving them this token of appreciation—big or small—is a necessity.
How much should you spend on gifts?
Choosing your bridal party gifts is part of the planning process, so you'll want to come up with a budget for how much you can afford to spend before you start shopping. Don't worry if you don't have lots of cash to lay out—the most important thing is that the gift is from the heart. And choosing something that is useful to your bridesmaids will also ensure that you won't have any regrets afterward. As Grace Lee, founder & CEO of Birdy Grey, points out, "as far as gifting goes, brides have become much more practical, and we're seeing a rise in items you can use long after the wedding."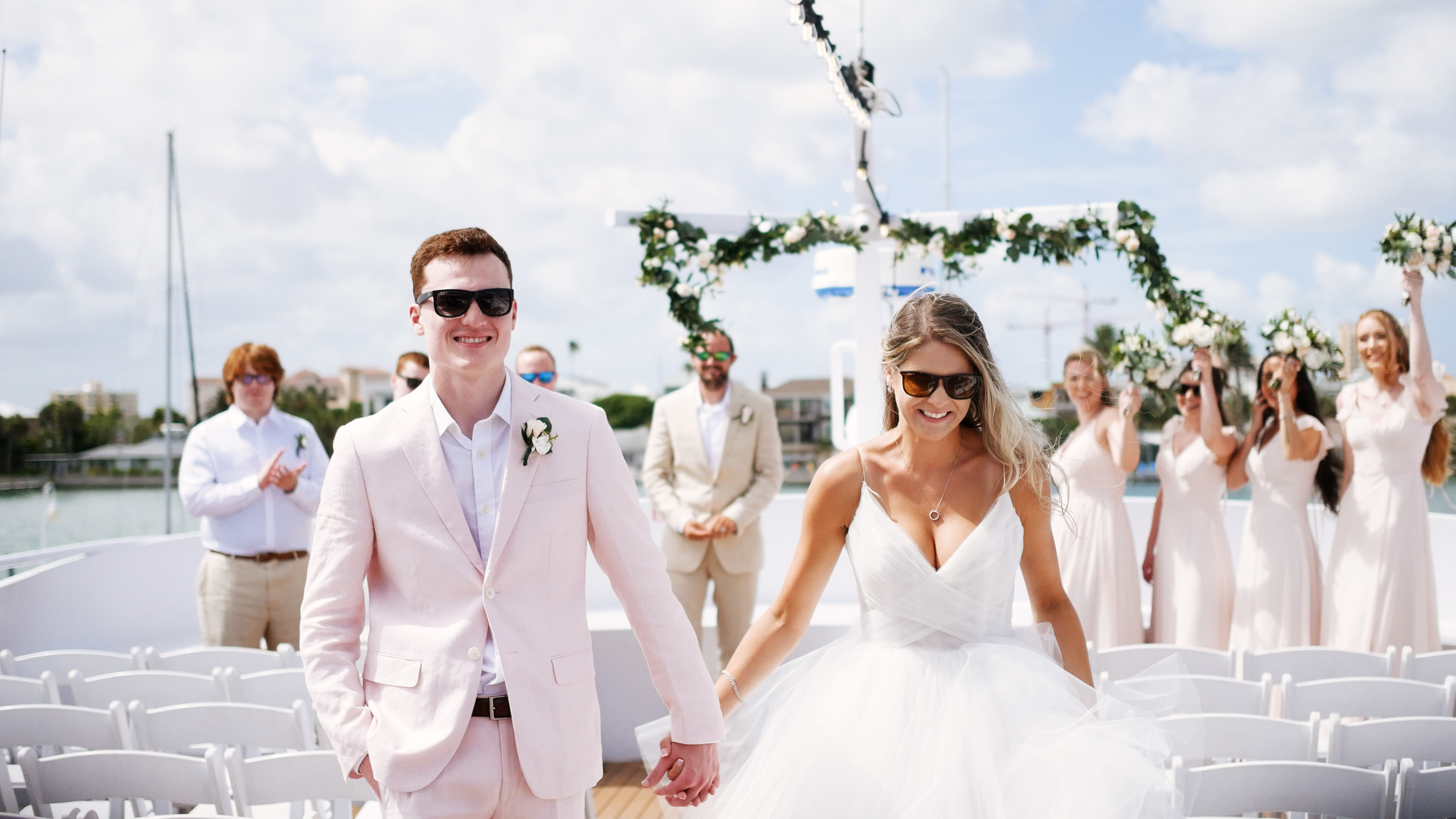 When should you give the gifts?
When you give your bridal party their gifts is really up to you, but if you select items that should be used on the wedding day, then you want to present those presents before the date. This can be at the rehearsal dinner or even the morning of the event while you're all getting ready.
Best Gifts For the Wedding Party
Talk about how a good wedding party gift should be thoughtful and have some meaning for your loved ones but how items that will come in handy on the wedding day are also great ideas.
15 Bridesmaids Gift Ideas
Keepsake Jewelry
"Pearls are having a moment outside of the bridal market, so I'm really into the idea of choosing a modernized piece—like a pair of dainty pearl earrings or a sweet pearl necklace—that your bridesmaids can wear again with a pair of jeans and a cute top for date night," says Lee.
Bridal Party Tumblers
We're all trying to be more eco-friendly, so help your bridal party ditch the plastic with a personalized reusable bottle. There's no doubt it will get a ton of use!
Bridal Party Pajamas
"My absolute favorite gift right now is a set of really nice pajamas or matching robes—and they don't need to break the bank," explains Lee. "Our robes and PJs are super affordable (under $40) and they feel insanely luxe so your girls will be wearing them long after the wedding."
Personalized Totes
Now that many states have banned single-use shopping bags, a reusable tote will truly come in handy. Choose a bridal-themed one—like a "Team Bride" tote— or personalize it with everyone's names.
Personalized Candles
Your bridal party will need some rest and relaxation after the wedding, too! Pair a bath soak with a beautiful candle, which can be personalized from a variety of scents so you can give everyone in your bridal party their own signature smell.
Makeup Bag
A sweet makeup bag is a perfect gift for your girls as you can stuff it full of goodies they'll be able to use after the wedding or even include trial size items for the day of like a mini version of their favorite lipstick for reapplying throughout the night.
Customized Phone Cases
A smartphone case does more than protect your technology—it's also a style statement. These come in a variety of colors and designs, and can be personalized with first names or initials.
Monogrammed Clutch
A classic clutch is a timeless gift that your bridesmaids will use for years to come.
Personalized Ring Dish
This is no ordinary dish! It's a beautiful décor piece for the home, as well as something practical that can be used for jewelry, keys and any other small items.
Workout Mat
Whether your bridal party uses them for yoga or in a cardio class, a personalized mat with their names or your wedding date can make working out feel like less of a chore.
Beach Swag
These are perfect for a destination wedding! If you know your bridesmaids' swimsuit styles and sizes, buying them a cute suit they can wear to your bachelorette weekend or destination wedding is a nice touch. Pair it with a beach towel, coverup, sunglasses and a personalized hat for the perfect gift to encourage some fun in the sun.
Spa Set
Encourage your party to pamper themselves (they definitely deserve it!) with a spa set filled with items including a face mask, bath soak and eye mask. They won't even have to leave their own homes to de-stress!
Diamond Pen
Give the gift of bling with a pen that manages to be practical and glamorous at the same time!
Personalized Tank Tops
Your bridesmaids can wear these tanks to everything from the bachelorette weekend and the morning of the wedding to the gym after the main event has come and gone.
A Handwritten Note
No matter what you give to your wedding party, be sure to include a handwritten note with it letting them know how honored you are that they would stand with you on this important day. Trust us, it is something they will cherish for years to come.
Before you start looking for bridal party gifts, browse through some bridesmaids dresses for inspo!