We've started a weekly email to newlyweds to ask them the questions we think are important for soonlyweds to know! Every week, we'll update this post with a new question and their answers so you can get all the info they wish they'd had while wedding planning!
Courtesy of Jay and Mack Films
What was your biggest regret from your wedding?
I wasn't SUPER explicit about specific photos I wanted. I thought I was—I made a family shot list and listed out some other things I wanted. But I apparently needed to be super, super, super specific if I really wanted something done. Especially if you won't be around (getting ready in a different location), make sure to list out every detail shot and special additional touch you put your heart and soul into to make sure it makes the photo cut.
We were so frazzled during the week of the wedding, we forgot to write letters to each other for the morning of the wedding. Not only would it have been a nice time for us to both take a breath and reflect, but we didn't really get to talk to each other very much all day, so it would have been a great moment to connect.
That I didn't have someone checking off the photo poses from the list—at the end of the day, I didn't get a single posed photo with my mom or with my mom and sisters. I also didn't get one photo of all the guys in their tuxedos. I had made a checklist but there was no one checking it off (the photographer was shooting and didn't have the list handy), so I was just going where she put us, and we somehow missed certain shots.
I didn't give my photographer a list of pictures I wanted and am disappointed with my photos!
—Lauren C.
Courtesy of Watertown Films
What was the best money you spent on your wedding?
Our photographer. They were a little over budget, but I had been admiring their photography style for years and couldn't find anyone else like them in our area. Our photos came out beyond what I could have even dreamed of! They were absolutely worth it because photos are some of the few items we will have from our wedding day forever and I look at them all the time! They captured us and our day so beautifully.
—Alicia B.
Our photographers and videographers! Day Eight Studios. They gave us the best price and their quality in the services was outstanding! If I had to do it all over I would pick them every time!
Open bar, videographer, and hair and makeup for the bridal party so they didn't have to feel the pinch of one more thing.
Extra coverage hours for photo and video! The day went by so quickly and there is no way I could remember all of those moments without extra coverage!
Courtesy of Purity Weddings
What is your best wedding dress shopping advice?
Have pictures of what you like and be very specific. Make sure you have a budget and stick to it. Also, be a little open-minded when it comes to trying on other dresses, you might be surprised! And most importantly, once you find your dress, STOP LOOKING! 🙂
—Diana O.
Courtesy of Bailey Heart Creative
What was your best wedding surprise?
We had a surprise ceremony on the dance floor after dinner! A tornado had touched down at the venue right before guests arrived and completely flooded our ceremony site. We decided to just go with the flow and rearrange the wedding schedule!
We had three! The first one was using maracas for the ceremony, which was awesome, the second was when I changed into a super sexy wedding dress, and the third was our first dance! We went from reggaeton to salsa to Nicky Minaj and ended with "Perfect" from Ed Sheeran. It was so fun!
—Diana O.
Courtesy of Lovestory Films
What was your favorite registry?
We had a destination wedding and a super small well-stocked apartment. We knew traveling to join us could rack up expenses for our guests so we decided to eliminate the wedding shower entirely and just ask everyone to come and be present with us. We asked them to consider gifts with a personal touch: a handwritten letter, a scrapbook, a song or other personalized gift. For those that preferred a more traditional route, a cash gift was an option, but we also put together a registry list of things we needed to replace. We chose options that contributed in some way to JDRF since I've had Type 1 Diabetes since I was a baby.
We did not have one—we just suggested cash instead. Best idea ever!!!
—Diana O.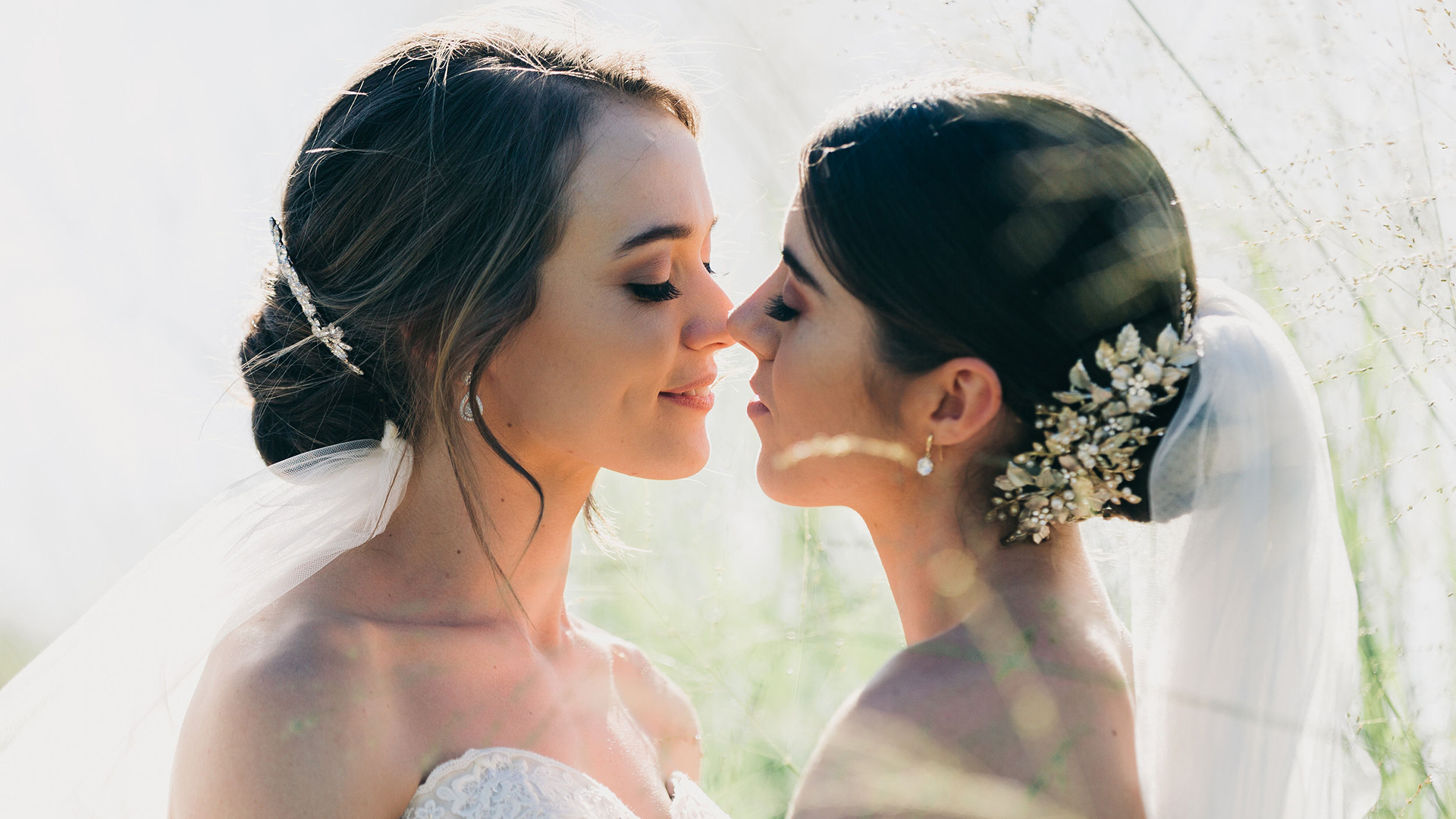 Courtesy of J'adore Weddings
What was your favorite wedding website tool?
We loved using the Minted wedding website platform. It was easy to use, beautiful and made it easy to coordinate a site that matched our save-the-dates!
Minted!
—Michaela D.
WeddingWire
—Diana O.
Courtesy of Emma Lynn Cinema
Why did you choose your wedding date?
We really wanted August, and I love even numbers, so we chose 8-16!
We chose May 18 for several reasons. We always knew we wanted to get married in spring, but we wanted to get married at the earliest time possible while still warm enough for an outdoor ceremony so we could really introduce "springtime" to our guests. We also wanted to get married earlier as my husband's grandfather was ill (unfortunately he did not live to see the day). Lastly, in Jewish culture, 18 is a very lucky number (chai), so it was perfect for us!
—Michaela R.
We chose our wedding date for two reasons. The first being that it fell the same week my grandparents were married. They were married for over 50 years and they meant the world to me!! The second was that our dating anniversary fell in that same week. We both thought these reasons would bring us a lot of love and happiness.
—Elizabeth J.
My husband Luke and I got married in Charleston, South Carolina and we picked October because it is the best month of the year for great weather in the Lowcountry. We got engaged in September of the previous year, so we knew we would have a fall wedding. When we decided on our venue, Magnolia Plantation, we were very fortunate to find only one date available left in October. We will be celebrating our first wedding anniversary on October 28, 2019 in Charleston!
—Lynn G.
With my wife being a teacher, and both of us really wanting a spring wedding, spring break seemed like the only option that would work for us. We were worried it would be a fairly popular date and, with us getting engaged only seven months before, figured we might have to deal with some vendors already being booked. Luckily, every vendor we wanted had the date open and we were married on the first Saturday of spring break this past year.
We wanted to get married at Pecan Springs Ranch in Austin, TX. Austin is HOT, so we knew our window for a wedding that was half outdoors was limited. Believe it or not, we put a hold on our wedding date in late August of 2018—two months BEFORE we got engaged! My dear friend and wedding coordinator's family owns the venue. I knew that spring was booking up quickly, so put a hold on the latest spring date that was available on a weekend! Ultimately, we got married on Friday, May 3.
—Kimberly M.
We celebrated 10 wonderful years by getting married!
—Shannon P.
Our wedding date holds a very important meaning to us. April 25th was my mom's birthday, and she passed away almost seven years ago. We knew we wanted to incorporate her on our special day and what better way to honor her spirit than to get married on her birthday? My mom couldn't be there physically, but we felt her so strongly with us in spirit.
It's easy to remember, it didn't overlap with any other major holidays, including either of our birthdays. We also wanted to get married in the summer because of the location (Chicago) and in thinking of our out-of-town guests.
— Kirstie B.
Funny enough, we moved our date because we wanted to go to Italy in September. So we picked 09/06/2019 instead of a snowy December wedding.
—Ada S.
Responses may have been edited for length and/or clarity.