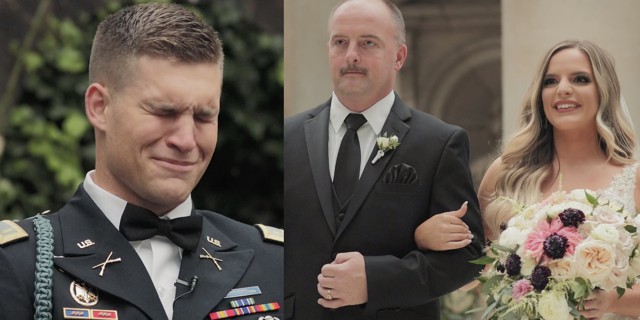 What It Was Like to Shoot YouTube Beauty Vlogger Casey Holmes' Stunning Wedding Video
YouTube Beauty Blogger Casey Holmes married Second Lieutenant, Davis Marlar in Atlanta, Georgia on October 28th, 2017. Their military wedding was full of Southern charm with romantic touches throughout. Next to seeing the Casey's gorgeous wedding gown (😍😍😍), our favorite moment from this wedding video is the first look. Davis' reaction after watching Casey walk down the aisle for the first time will MELT YOU. We caught up with Casey and Davis' wedding videographer The Film Poets to learn more about what it was like to film a wedding that will be viewed by millions of adoring fans. (No pressure!) Watch the video below and then read on for our interview with The Film Poets.
How did you get introduced to Casey?
Casey said that she found our films on YouTube a few years ago and has had her eye on us ever since. You never know who's watching your work!
What advice do you have for other filmmakers who are eager to book weddings like this?
One of the great things about creating story-driven films is that they naturally attract couples who have incredible stories and want to share
them. So I suggest creating films that you feel people will connect with emotionally. That will inspire others to reach out to you.
What tips do you have for working with an influencer bride that you would share with other filmmakers?
One tip for working with an influencer is to study their relationship with their audience. Casey not only has her beauty channel but also a vlog
where she and Davis talk directly with their followers. That got us thinking, what if the story was based around them talking directly to the
camera like they would in a vlog, but shot cinematically? Since her audience was used to that type of connection, it felt like the way to go and became the backbone for the film.
Another tip is to collaborate on ideas. An influencer is usually a creative as well, so you can involve them in the process. For example, during our
chat before the wedding, I asked Casey how she felt about taking the camera from me and doing a bit vlog style shooting of her friends on the dance
floor. She loved the idea, and it played out perfectly. The moment feels very organic in the film, but I wouldn't have tried it had we not had that pre-planning collaboration before the wedding.
What is your favorite moment in Casey's wedding film?
Most people's favorite moment is when Davis bawls as Casey comes down the aisle. It's a great moment, but I can't choose a personal favorite. I love how both of their prep sequences show how they are from two different worlds, Casey's being soft and glamorous and Davis's having a heavy
military vibe, and then everything coming together in the end. It was just a fun day, and we were lucky to be a part of it!
Get all the vendor details for Casey and Davis' wedding here.
Contact The Film Poets for your wedding here.