If you follow any wedding-related Instagram accounts (like Love Stories TV for example), you've probably already been exposed to one of the biggest trends in weddings right now: watercolor wedding invites. One-of-a-kind, completely personalized and just downright gorgeous, it's no surprise why these wedding works of art are so popular right now. So, we chatted with Carly from Clementine Studio, a Chicago-based design and illustration studio, to get the inside scoop on just what makes this trend so fab and how to incorporate it into your own big day. Read on for Carly's answers to some of the most common wedding q's when it comes to watercolor stationery.
Can you walk me through the process of creating custom watercolor stationery?
Each designer works differently but I'll walk you through my process from beginning to end. First, I consult with the client to get an understanding of their vision. We share Pinterest boards and chat about elements of the wedding that might influence the invitations (think: floral colors, location + scenery, history, time of year, etc.). Once I have a firm grip on the direction, I get started on the design! I hand paint various components like florals or a ceremony site, write their names and accent words in script and then lay it all out in Photoshop. This process allows me to digitally edit the design easily since it's composed of different layers, rather than one painting with the script written on top which would be more difficult to edit if I make a mistake or want to repaint something.
I usually end up with 2 or 3 subtle variations of the final design to present to my client. They review each one and I make any edits as needed and then once I have final approval we're off to the press!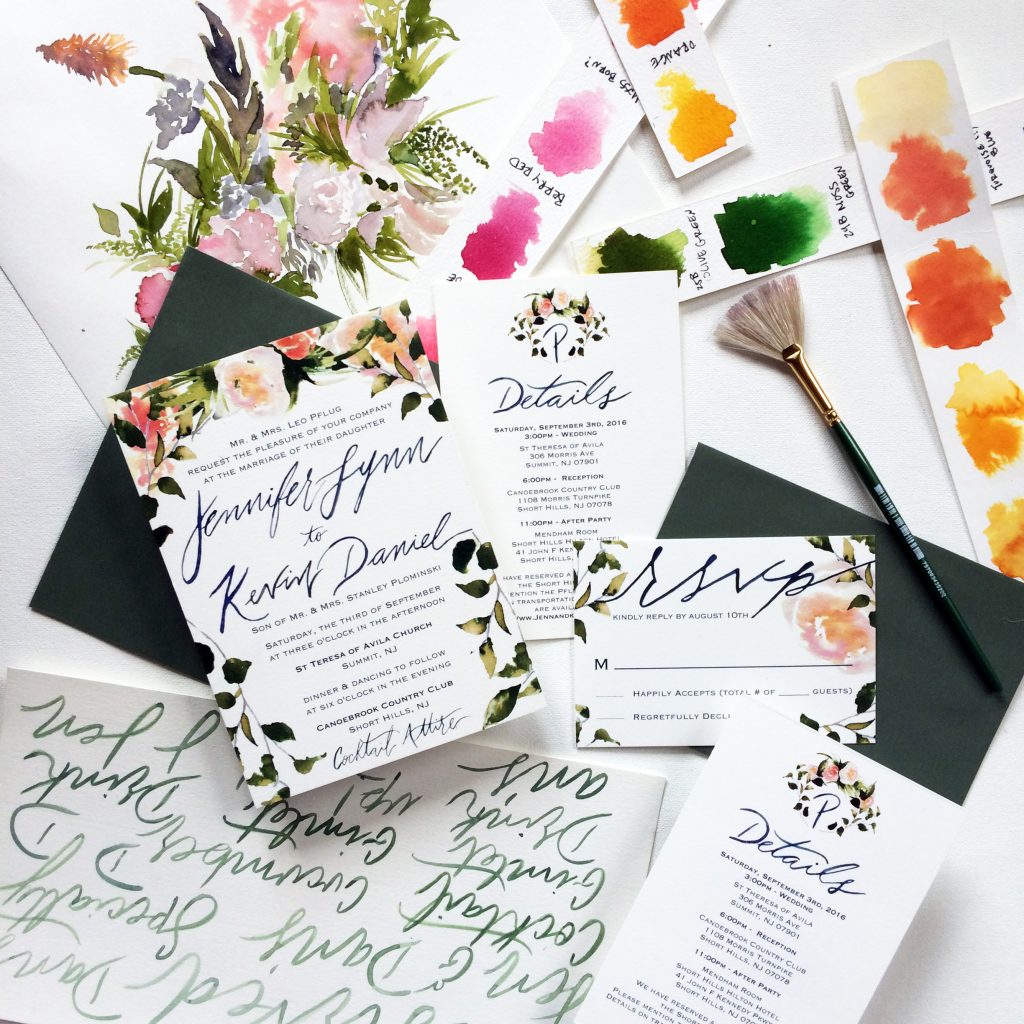 Clementine Studios
Printing
There are lots of printing methods and paper options that might seem overwhelming so here's a quick breakdown of the two common types you should know about:
Letterpress Printing is a traditional relief printing method that's done by hand on beautiful old machines. This process takes more time and is typically more expensive because it's so labor intensive. The printer makes a raised plate from the invitation design then presses the plate into high-quality, textured paper by rolling it through (by hand!) a big ol' machine. The result is pure luxury and makes you feel like you're inviting guests to a castle in the 1700's for a royal wedding. Letterpress printing requires minimal colors as each color needs to be added in a new layer and run through the press each time.
Digital Printing has come a long way the last several years and is the best way to bring watercolor to life for your invitations. I always get asked if I hand paint each invitation because each one looks bright and crisp and textured like an original painting, the quality of the printing these days is that good.
My personal favorite invitation suites include both letterpress and digital printing combined! Which leads me to…
I'm not planning a "traditional" wedding. Is there a way to make watercolor invites feel more modern?
It's a misconception that watercolor invitations are for non-traditional people only. Sure it's possible to create something super bright and theme-y with watercolor (see destination weddings below!) but it can also be used as an accent to a more traditional invitation style. If you love the classic, minimal letterpress look with beautiful type and script, then keep the invitation simple and add in some soft watercolor florals as an envelope liner and maybe a vine creeping across the top of your RSVP card. This brings a little modern flavor and personality to your traditional invitation suite.
Clementine Studios
What types of wedding suites do you create for destination weddings?
Destination weddings are my all time favorite invitations to design. Mainly because it mentally transports me to a dreamy location (that's usually warmer than where I'm sitting in Chicago) and I get to paint bright colors and foreign details that provide the perfect mini-escape! But just as importantly, destination wedding invitations provide so much anticipation and excitement for the guests and we get to have a lot of fun bringing all the details together.
This is a great place to provide an "extended" invitation that essentially includes a weekend itinerary for what guests can expect so they can plan their trip accordingly with plenty of time. My favorite way to do this is by creating a folded, 4-panel accordion invitation. This folds down to the standard invitation size, but when opened up includes a lot more canvas space for extra details like a welcome page, an info card, an attached RSVP card (postcard style!) and then the back is extra space perfect for a fun map of the area highlighting specific places relevant to your wedding. The extra space is also an opportunity to bring in a lot more personality with added illustrations, color and design.
Clementine Studios
Clementine Studios
I want to have watercolor invites, but I'm on a budget. Any tips?
While it's best to allow your stationery designer to print their materials for you since they have tried and trusted printing vendors and know the best printing methods and papers to bring their designs to life, there are other options if you're on a tight budget but really want some watercolor details. If my clients have other printing options at their disposal, I offer the option to buy the digital files from me and print on their own. This cuts out my printing cost so they're just paying for the design fee which cuts the cost down significantly.
Similarly, I offer everything a-la-carte style so you don't need to invest in a whole suite if you're just looking for a small watercolor accent. You can buy a custom map, digital file or printed, to include with your invitation suite or in your welcome bag, or custom heraldry that you can throw on your website or even have printed on napkins, tote bags, etc. Options are endless!
Clementine Studios
Ok, I'm obsessed with watercolor and want watercolor everything now. What other custom items can you create for the wedding day?
The typical span of time I spend working with my clients is about a year or a year and a half, from the first email after a couple gets engaged, to their wedding day when we're rushing place card edits (I promise, you are not disorganized, EVERYONE is scrambling the week before their wedding!) The end is always my favorite part because we get to carry the designs from the wedding stationery through to day-of items to tie everything together and create a cohesive theme that guests remember from your stationery. There are so many options here, from using that custom herald I mentioned above on the top of a wedding program or a seating chart, to expanding the illustrations to include more of the location the guests are able to finally experience in person. Stickers for welcome bags or take-home gifts, custom maps, handwritten place cards, menus that add an accent to the tables, table numbers that bring in a pop of color, whatever you can dream up, watercolor is there for you!
Clementine Studios
Contact Clementine Studios for your wedding here.