There are some wedding videos that are just so emotional, so over-the-top or so absolutely stunning, we feel they deserve a bigger accolade on our site, like the title of Love Story of the Week! We love Kadia and Jessica's natural, destination celebration, but it was their amazing back story that really got to us.
Watch the video by AlunnaFilms and then scroll on for an inside look at Kadia and Jessica's planning process, tips and vendors!
1. How did you two meet?
We met in 2010 on a summer internship in Harlem, New York teaching kids reading and softball. We met on accident because Kadia, who didn't play sports, had applied to the wrong internship. We noticed each other in the first weeks of the internship and when we finally spoke, it was about a set of rainbow bracelets on Kadia's arm. She was missing the color yellow. Weeks later, Jess would surprise Kadia in a dugout with a yellow bracelet and from then on complete her rainbow.
2. How did the proposal happen?
Jess set up a whole surprise at the High Line, a beautiful park built elevated above the streets on Manhattan's West Side. She invited (and flew in) our family and friends, and told Kadia that she was going to dinner with Jess's colleagues. When I walked up the stairs to the High Line, I didn't expect to see my sister standing at the top with a rose in her hand—she was supposed to be in Brooklyn getting a car fixed. Then, standing a few yards away, I saw a dear friend also holding a rose. As I made my way down the high line's path, more and more familiar faces turned to me. New, longtime and long-distance friends, \" whom Jess had gathered, gave me roses and words of affirmation. One hugged me and whispered, "You're ready." And I said, "I am." Shaking, I tried to keep from crying as strangers watched and waited to see what was happening. I tried to understand why I was collecting roses and a crowd on my walk to whom I assumed was Jess. Nearing the end of the line, I completely broke when I saw my little brother, who had just moved miles away to start his own family. He returned for the day to give me a rose; and with tears in his eyes, he wrapped his arms around me, kissed the top of my head, and repeated, "I love you," before letting me go. Not far behind him stood my partner, my best friend, my dream girl. The person who's given me literally hundreds of flowers over the past eight years. Lined up in front of her were photos of us from over the past eight years, reminders of all of the places we've gone and things we've done. The home stretch to her felt like a walk into the rest of our lives. In each step I felt closer to our future—future moving days, dog adoptions, overseas flights, new job titles, not-so-chill anniversaries, not-so-chill kids, and major life events with our families. By the time I reached her, I had a full bouquet in my hands. Just like I did after I graduated, after my first day at work, after I quit my job to go back to school after I de-boarded a flight from a work trip after I gave a speech after I did anything that scared me or made me feel alive. That day, that moment, felt special because it felt like any other day loving and being loved by her. I am grateful to everyone* holding up our relationship and giving me my roses. I'm grateful to get flowers that remind me I'm living.
3. What are each of your favorite things about your relationship?
Kadia: How much we laugh! We laugh a lot together. Whether that's from an inside joke or Jess making up silly songs or sharing crazy stories from our day.
Jessica: We have a strong desire to explore: to learn more about each other, travel the world, and challenge each other in ways that we have never explored before choosing one another.
4. What was the first thing you did as an engaged couple?
We celebrated Pride 2018 in New York City. Ever since we met about 10 years ago, we make a huge point of celebrating Pride, including World Pride, which has taken us to Toronto, Madrid, and back home to New York City—and hopefully Copenhagen next year!
5. What was your budget and how did you decide on it?
Wait, we were supposed to have a budget?! Just kidding. We definitely had a budget. And it came to a little under $40,000, which is not half bad considering we originally set one at $35,000 for a destination wedding. We decided on the budget by sitting down with giant poster paper and at the same time said what was the most reasonable amount we could spend and agreed on the same number.
6. What were your top three priorities when planning your wedding?
On that giant poster paper were our top priorities: DJ, Lighting, and Photographer/Videographer. These were the non-negotiables. We had our wedding at a resort in Guanacaste, Costa Rica and much of it was at nighttime, so lighting was a must. We love to dance and so do our guests—we even got a clear dance floor set up over a pool—so the DJ had to be better than good. They had to be amazing. And we wanted to truly capture our special day, especially for the people who could not make the trip; so we spent a lot of time—mostly Jessica—searching for the right people.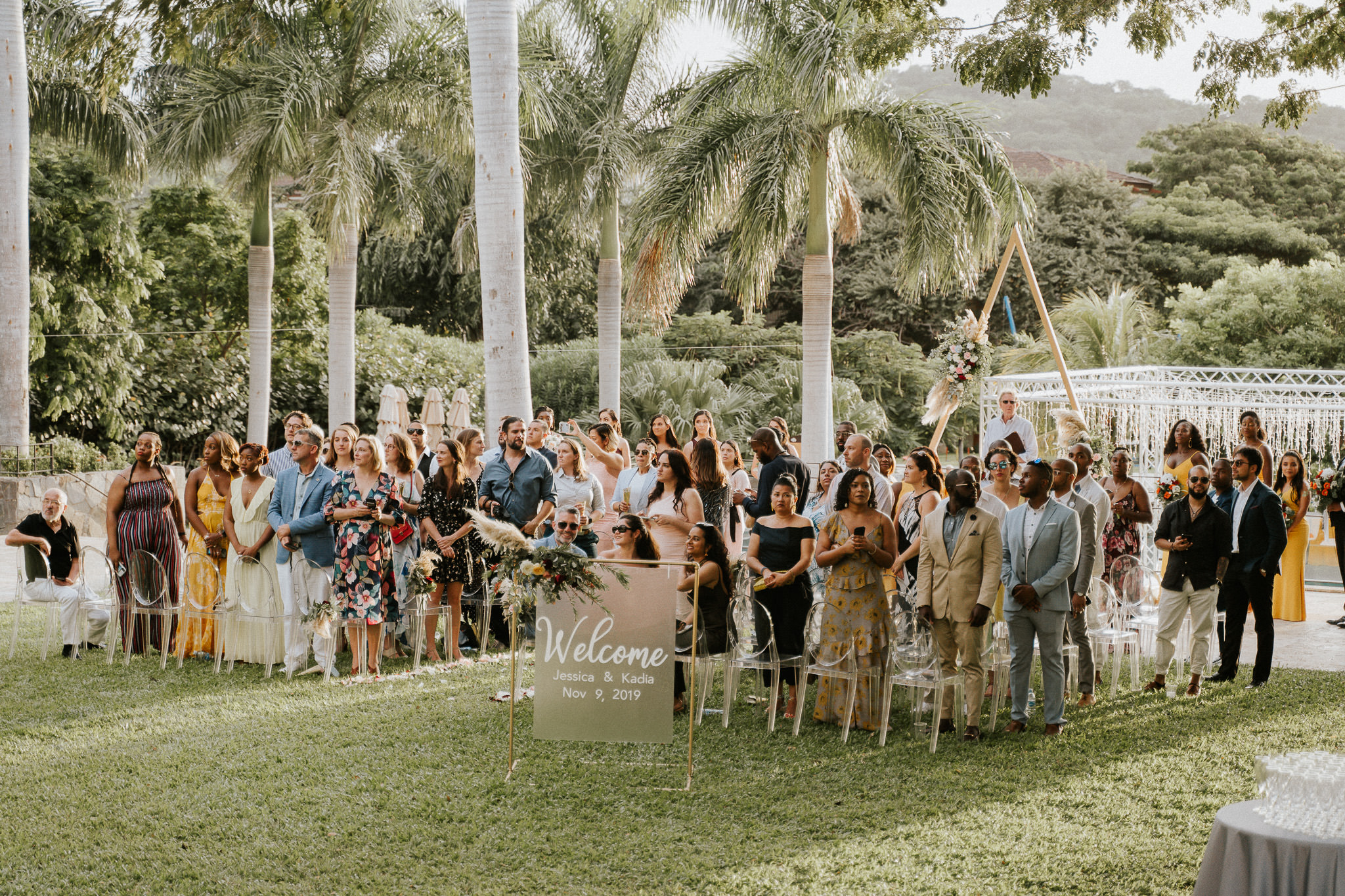 7. What did you each think the first time you saw each other on your wedding day?
Jessica: \"Oh my goodness, don't cry.\"
Kadia: \"Oh my god, is that Jess?\"
8. Did you write your own vows? If so, what personalized details did you add? If not, how come?
Yes. Kadia wrote hers. She actually brought with her to our wedding day an old piece of folded paper where she'd written vows over five years earlier. She read from that paper. Jessica didn't write her vows. I thought about what I wanted to say but just spoke from the heart the day of our wedding.
9. Can you each talk about your dress shopping experience and how you found THE dress?
Kadia: Nine months before our wedding, I went with my bridesmaids, mom and closet friends to Glamour Closet boutique. I was nervous about trying on dresses because I'd spent the previous three months working out to get in shape But when I tried on the dress, picked out by my twin sister, it fit like a glove. And the way the boutique works is that whatever is on the rack is what you take home. So they only had sample sizes. When that dress slipped up, with no clipping or alterations needed, and I looked at myself in the mirror, I knew it was the dress I wanted Jess to see me in. As for my jumpsuit, I found that on ASOS over a year before the wedding and fell in love. I tried it on once and knew it was the one.
Jessica: I went to visit my hometown of Chicago to visit Bijou Bridal with my bridesmaids to find their dresses. As they tried on many wine-colored dresses, I decided to take a look at their bridal gown section. The very first dress I laid my eyes on was so beautiful, and I immediately had to try it on. That dress ended up being THE dress. I knew that I wanted to get a second bridal garment for the reception, and I fell in love with Mika Inatome's Bridal work in New York City. Mika consulted on my bridal jumpsuit idea and created the perfect garment for me on our special day! Both outfits were perfect and were a stress-free experience for me.
10. Can you both also talk about how you decided on your wedding hair and beauty?
This was very tough. We, as the brides, have very different skin tones and hair textures so we had to find someone super skilled in all types of beauty. Our bridal parties were also very diverse. So we narrowed down artists in the Costa Rica area. We went through their social media portfolios to see how they've worked on a diverse group of people and were able to find an artist who could help make everyone in our wedding party feel and look beautiful on our wedding day.
11. You were married in such a gorgeous location, what made you choose this venue?
We travel a lot and wanted to get married in one of the countries we first visited as a couple. Costa Rica was the country we fell in love with as we fell deeper in love with each other. We had three locations in mind for where we wanted to get married. A year before our big day we planned to fly to Costa Rica to check these places out, but plans changed when Kadia had to fly to another country for work (where she would be for 3 months!). We didn't want to cancel the trip to CR so, Jessica went on her own, documenting all of the places she went and video calling Kadia (despite very different time zones). Once we reviewed the three locations, we sat on Skype (Jessica in Costa Rica and Kadia in London) and wrote down our top choice. After a countdown, we showed each other the location we'd picked after writing them on pieces of paper and screamed when we realized it was the same. When Kadia returned from her travels, we went back to Costa Rica and stayed at Dreams resort. We fell in love. And knew we'd made the right choice.
12. What would you say was the most difficult thing about planning a destination wedding?
Accepting that there would be some family and friends who we really wanted to join us on our day couldn't make the trip, whether that was due to health, immigration status, or finances. We felt guilty at some moments that we were having a destination wedding, but also knew that those people wanted us to celebrate our wedding the way we truly wanted. And they were there with us in spirit.
13. How did you choose your officiant? Did you include any special readings/poems/essays/etc. in your ceremony?
Our officiant was Kadia's college mentor who's also like a father figure. He was also the biggest supporter and fan of our relationship beginning the summer we met in 2010. He's our biggest fan and a role model for a long, loving marriage. While he officiated, our bridesmaids read poems or their own speech. Having them read spoke to how much we wanted to include all of our community in our union.
14. Why would you suggest hiring a videographer?
IT IS ABSOLUTELY NECESSARY. Our videographers were like our friends on that day. They were incredible storytellers, but, more importantly, they treated us and our guests like family. They were flexible and patient and shared in our joy and anxieties (when we were running late). They captured special moments from our big day that we would have missed and that we want to remember forever.
15. What is your favorite memory from your wedding day?
Our first dance and jumping in the pool are our beloved memories from our day. We danced to \"You're the reason I come home,\" by Ron Pope, a song that has been dear to us since we met. The song played as fireworks—a surprise from Kadia—lit the night sky above us. By the end of the night, almost all of our guests were in the pool! Then we jumped in, holding Jessica's father's hands. We now say, whenever you get the chance to jump in the pool, take it.
16. What's your top tip to all soonlyweds out there planning their weddings?
Practical advice: get a bomb-ass wedding coordinator! Our wedding coordinator saw our vision, knew what we wanted, and left some elements of surprise for us to enjoy on our wedding day. Because we trusted him and the planning we'd put in, we were able to spend more time enjoying each other leading up to the wedding than stressing the small details of our big day, like chairs, napkins, or small hiccups with tech or music. We were totally focused on ourselves, each other, and our family and friends.
Personal advice: we were constantly told our wedding was about us. And that advice proved monumental! Other people's opinions, complaints, traditions, or demands should not dictate your special day. Spend your wedding how you and your partner want and make sure to do things that you and your partner love to do. So if there's a certain way you want to walk into your ceremony, do that. If there's a certain crazy song you want to dance to, put it on. If there's a tradition you want to skip, create your own. It's your day and the worst thing would be to look back on it with regrets that you didn't enjoy it the way you both wanted.
17. Who were your favorite wedding vendors and why?
The entire resort, Dreams Las Mareas, was an incredible vendor. They took care of everything we needed. We also had amazing photographers, Raw Shoots, and videographers, AlunnaFilms, who were the perfect team to capture our relationship, our community, our love and joy.
See all the vendors here
18. Anything else you'd like to share about your wedding or some details I didn't ask about?
Our wedding day was magical. After spending the past nine years together, we've come to know what the other person loves to do in the morning, how they get ready, where they're headed—the little things that we look forward to and cherish. On our wedding day, we spent it thinking about each other. Wondering if our love was laughing, smiling, watching the clock and feeling the butterflies as the ceremony grew closer. When we saw each other, after nearly nine hours of being apart, it felt magical. From the way it did NOT rain, to the people who made it from thousands of miles away to our love song being played and meeting each other at the altar. Every part felt magical (and was described that way by guests) because every part of our wedding day felt like every other day—just with extra stars, extra warmth and extra love.
To watch more wedding videos by AlunnaFilms, click below.