Weddings are people at their best: communities of friends and family coming together to celebrate one of life's most important and emotional moments. And that's why we started Love Stories TV — to bring real weddings from real people to everyone.
Sharing real weddings in real-time has always been part of the Love Stories TV experience. Every weekend a different member of our community – whether its a wedding guest, a filmmaker, or a wedding vendor – takes over our Snap or Instagram Stories to share a real wedding they're attending. Since Love Stories TV launched in 2016, we've hosted hundreds of these live real wedding social takeovers with our audience. And our network of wedding pros loves that they can connect with potential customers in a fun and authentic way.
We're thrilled to take our Real Wedding Takeovers to the next level with Our Stories on Snapchat. Love Stories TV is one of Snapchat's 20+ partners curating a dedicated channel, and ours is the only channel featuring all wedding content! The Love Stories TV Our Stories channel will be located in Snapchat Discover in the coming month.
Using Our Stories, Love Stories TV will curate real wedding moments and share them with Snapchat's 188 million daily active users. Now, instead of sharing a couple weddings each weekend from our community, we can share hundreds of weddings from people all around the world. We will also embed the Our Stories channel on LoveStoriesTV.com/OurStories so everyone can watch there too.
Our audience loves to watch emotional first looks, parents' reaction to a bride in her dress, inspiring officiant speeches, heartwarming and hilarious toasts, incredible dances and surprise performances, and so much more.
We're so excited to be Snap's only wedding content partner at launch and expand our ability to bring real weddings from real people to everyone. To kick things off we curated Snap's official New York Bridal Fashion Week story which you can watch HERE.
Snap selected Love Stories TV as their exclusive wedding partner because of our deep expertise in storytelling, curation, and because of our community. As the curators of this new wedding Discover Channel we can feature our community of filmmakers, vendors, and wedding enthusiasts. Here's how YOU can get featured:
✔️ Share great content on YOUR Snapchat. Starting this weekend, when you are working or attending a wedding, post the best moments (think crying grooms, amazing dances, epic dresses, incredible venues) to your Snapchat account and make sure to tap "Our Story' when you publish your Snaps.
✔️ Brand your Snaps. Include your business name or Snap handle on your Snaps. That way if we select them for the story all of the new viewers will be able to find and/or follow you.
✔️ Make it easy for us to find your Snaps. Caption the word Love Stories somewhere on the Snap (it's OK if it's really small!)
✔️ Coordinate with us ahead of time. Know ahead of time you'll be attending an epic wedding? Email us: social@lovestoriestv.com so we can coordinate and make sure we see your Snaps.
✔️ Share your past Snaps (and IG Stories) with us. Have Snapchat-style content from a past wedding you've attended? Email it to social@lovestoriestv.com and we can upload it directly to the story (it's OK if it was shot in IG Stories)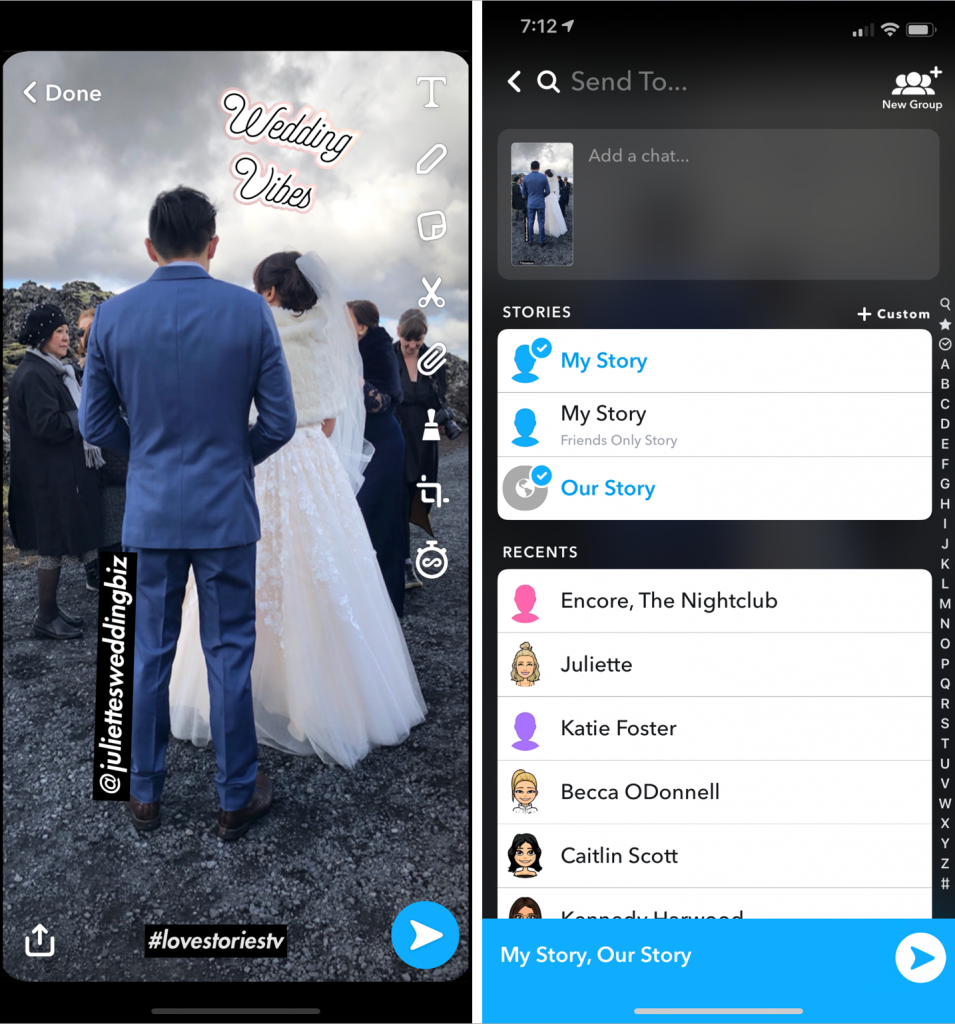 Stay tuned to our Snapchat, @lovestoriestv, and to LoveStoriesTV.com/OurStories (coming later this month) where we'll be embedding the story on our website!