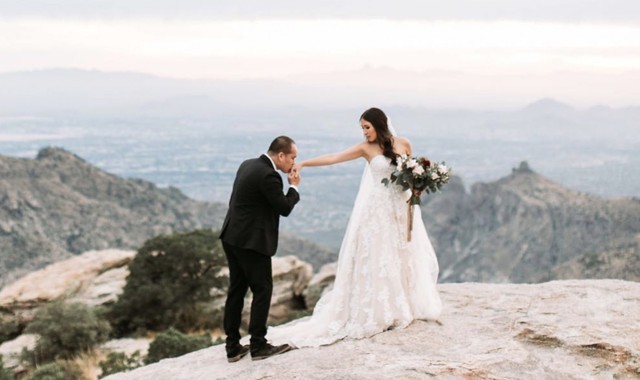 Say Hello to the Prettiest Champagne Wedding Dress You've Ever Seen
\"I feel like it's increasingly rare to find your person who perfectly balances you and brings out your best. Watching these two find it has restored my faith in love.\"
That's a line from the wedding film's opening speech, given Brittany's Maid of Honor. If that doesn't get you super excited to watch Brittany and Kevin's entire film, IDK what will! In addition to the amazing speeches, you'll be instantly obsessed with Brittany's wedding dress. It's a nude color with gorgeous lace appliqués — and Brittany's mom was the one who found it for her. (So sweet, I know.) Read on for our interview with Brittany and watch the full wedding film by Hadley Studios below.
The Wedding
Your video opens and ends with really heartwarming footage of your note exchange. What was it like watching the footage of each other reading your notes for the first time?
Re-watching the footage of us reading each other's notes was incredible and so touching. We really wanted to personalize our wedding day, with these letters and writing our own vows. In real time, reading the letters really got us emotional (as evident in the footage, I cried and Kevin got choked up). I knew reading these letters would get very emotional but replaying it back and re-watching it again, brought us back to that moment and it's like, in a sense, we got to relive it. Everything from opening the envelope, to reading the notes, to the emotions experienced during and after reading it, was very raw and memorable. Our favorite part about getting to re-watch it was being able to see each other's reactions. I never knew that Kevin was such a good writer. Reading the letters was one of our most favorite moments of the whole day.
Your ceremony venue greenery is such a special touch. Who did your florals?
Florals and greenery were done by a company called, Posey Pop, the owner and florist's name is Marianne Bates.
How did you find your stunning dress? And how did you know it was ~the one~?
I found and bought my dress from Luv Bridal, a wedding boutique located in Phoenix. I think I tried on 15-20 dresses. I went in with a vision of what style and type of wedding dress I wanted but after trying several on of that style, I knew it wasn't the one. Then I started shopping for other styles and when I was my mom told me I should try one, the one I ended up choosing. I fell in love with it. My mom always had good taste in fashion and she knew what I would look beautiful in, so I was open to the idea and tried it on. At first I was hesitant because I didn't envision myself in that kind of a dress, but when I tried it one, I fell in love instantly. I knew it was the one when my mind kept reverting back to it. It's not your \"typical\" white wedding dress (it has an undertone of nude/champagne), but I felt beautiful in it and felt like a princess.
What elements of your wedding day were most important to you and how did you plan for them?
The most important elements of the wedding day to us included the first look, writing and reading each other's letters, writing our own vows, celebrating with all our family and friends, and lastly, being able to cherish and remember all the wonderful moments from beginning to end. (We heard from many couples that the wedding day can be a blur so we wanted to make sure we were able to live in the moment and cherish it all).
**
What is your favorite moment from your wedding video?**
Our most favorite moment of our wedding video, by far, is seeing how happy and giddy and in love we both look. That day was a celebration of our love and seeing how Kevin looked at me, how I looked at him, and how happy and in love we look in the film, was amazing to see and replay. Yes, all the elements of the video, like first look, reading the letters, and reading our vows were memorable and touching, but just seeing how happy we look in the video trumps it all.
How did you find Hadley Studios and why did you choose them to shoot your wedding?
Since we live in Tucson, AZ, we wanted to find a videographer in the Southern California area (our wedding was in Long Beach). After a lot of research through social media, other websites like The Knot, I found Hadley Studios and loved their work. One thing I liked with their work is how they can incorporate personalized speeches and vows from the wedding day, unlike some videographers who only use music for the entire film. Overall, I am very pleased with how the film turned out. Would highly recommend them.
The Couple
How did you meet and fall in love?
We met during pharmacy school, he was in the graduating class ahead of me but we had mutual friends. A few years prior, during freshman undergrad orientation, Kevin claims he saw me across the room during one of the pre-pharmacy meetings. All through undergrad, Kevin and I never connected. It wasn't until pharmacy school, roughly 4-5 years later, that we finally met. At that time, I was in a long-distance relationship but after hanging out several times, studying late night for exams, and working out and hiking together, we really got to know each other. I couldn't fight my feelings for Kevin anymore, so I decided to go with my heart and ended my other relationship to pursue Kevin. Since then, the rest is history.
What do you think the ~secret sauce~ to your relationship is?
It is a combination of trust, compromise, putting each other first, and being understanding with each other. Having that foundation keeps our bond and relationship strong. We complement each other and are each other's biggest fans.
Describe your favorite date night!
Our favorite date night includes going to dinner (either at a new restaurant or to one of our favorite restaurants) then grabbing drinks at a local brewery or bar. We are foodies, so trying new restaurants is one of our hobbies.
What do you think is the most inspiring thing about each other?
The most inspiring thing is how hardworking we both are and how we both strive for success. We have the utmost respect for each other and the hobbies and passions we have, and through it all, we support each other and are each other's biggest fan.
If you were to guess, where will you be and what will you be doing when you celebrate your 10-year wedding anniversary?
On our 10-year wedding anniversary, hopefully we will celebrating on the island of Maldives and renewing our vows. That beautiful island is top on our list to visit.
See the full vendor list for Brittany and Kevin's wedding here.