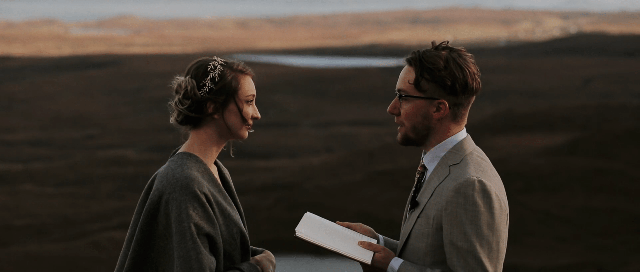 Love Story Of The Day: These Are The Most Romantic Vows You've Ever Heard
This Valentine's Day we called on our friends from Martha Stewart Weddings and WeddingWire to help us put together a short list of the most romantic vows on lovestoriestv.com. Then, it was your turn! We asked our viewers which of our four picks made YOU cry the hardest, and you told us it was Lisa and Alex's tearjerking vows in this unbelievable wedding film by Vow of the Wild*.
*Fun fact: Lisa and Alex ARE Vow of the Wild!  :)
From The Groom:
\"Lisa and I met almost 4 years ago through a dating website. We actually bonded from the start over a shared love of creating video. Lisa was a Fine Art Photo + Video major in college at the time and I was attending Colorado Film School. Our connection was pretty instant, and we moved in together about 7 months after we started dating. The pillars of our relationship have always been video and travel. We went on our first trip out of the country to Nepal and Cambodia in November of 2015. Then 5 months later we started our own business, and went to Iceland for the first time (we've returned several times since). While traveling around the island in a campervan, I proposed to Lisa on our second day. The plan had been to wait longer, but I was so antsy to do it that it just happened. We were exploring the famous plane crash on the black sand beach along the south coast and it just felt like the right time.
As far as choosing an elopement, I don't think we ever considered anything else. Travel being as important to us as it is (we've been to 10 countries and several different US states), we always knew our wedding would be somewhere else. Sure, it helps that we're wedding videographers ourselves and I feel like a lot of wedding vendors opt to have their own weddings abroad. But it truly just fits our relationship. At first we were going to get married in Morocco, but when we saw pictures of Isle of Skye we knew that the landscape there was too perfect to pass up. We love being out in nature, and growing up in Colorado has given us a very special love for mountains. So we planned the whole trip and with our parents/sibling/cousin in tow (most of whom had never been out of the US) we set off for a week in Scotland.
Honestly, it was more than we had dreamed of. The entire experience was incredible and I feel it brought our families so close to one another having shared that as a group. Finally reading the vows we had spent months preparing on a cliff side in the Quiraing got us both seriously choked up, which you can hear a bit in the film haha. The giant group hug at the end of the ceremony was totally unscripted and one of the sweetest moments I'll ever have. We saved money over a traditional wedding and had the experience of a lifetime, both for us and for our families.\"
Watch more romantic vows HERE.
Bridesmaids: Forever 21
Cinematographer: Vow of the Wild
Dress: Fame and Partners
Photographer: Frankee Victoria Photography