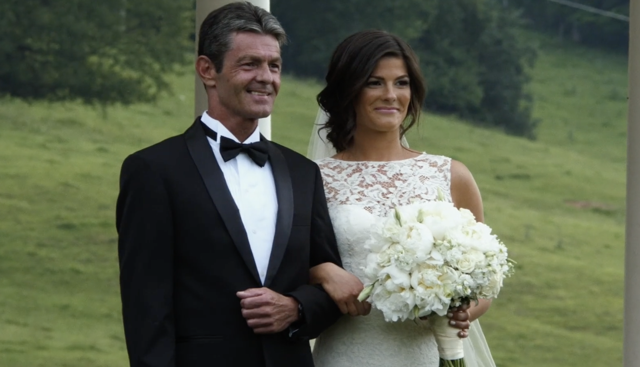 Love Story Of The Day: FOB Surprises Bride and Groom With The Most Heartwarming Wedding Day Gift
Morgan and Andrew's wedding video, shot by Little Josh Productions, opens and closes with the father of the bride playing acoustic versions of songs like \"My Girl\" and \"MMMbop.\" (So cute, I know.) Watch the endearing moments below, and then read our interview with the bride for the story behind her dad's wedding heartwarming wedding day surprise.
The Love Story:
Andrew and I met our Sophomore year of college at the University of Tennessee. I'm from Nashville and he's from Knoxville. He always made Knoxville feel like home to me, which was my first clue that he was something special. During his first year of Law School four years later, he decided to propose! After a little over a year of planning we got married on June 3, 2017. It was the most perfect day celebrating with all of our friends and family!
When did you know Andrew was "the one," was there a specific time or moment?
I'm not sure that there was any specific moment, but I do know that everything with Andrew has always felt right. Andrew did a fellowship program after we graduated from the University of Tennessee in 2014 before starting Law School. I think it was in that season of life that we both knew we were ready to be married. Andrew has always shown so many characteristics of someone I wanted as a husband. He is strong in his faith, he puts others before himself and knows no stranger. He is just one of those people you want to be around. Andrew makes me a better person, and I love being able to do life with him.
LJP captured so many magical moments in your wedding video! Do you have a favorite memory from that day?
I have two! The first being when I was finally able to see Andrew. Andrew and I went back and forth for a while on whether to do a first look. After many conversations, we decided with our timeline of the day it made more sense. Now looking back I can't imagine not having a first look. I was able to see Andrew for the first time just the two of us – plus Josh and Matt : ) It calmed every nerve I had and those first moments together were so special. My second favorite moment came from our ceremony. At one point our officiant, Brett, asked us to look out at our guests and really soak in that all those special people were there to celebrate us. It's so easy to get caught up in everything going on during your wedding day, but in that moment, he just wanted us to stop and realize how blessed we both were by our friends and our family.
How did you find your videographer and what made you chose him?
I found Josh through our photographer, Matt Copeland. He spoke so highly of Josh, and they both had worked together in the past. I then probably watched all of Josh's videos online and reached out to him. If his talent wasn't enough to sell me on him, his kindness via our communication did. Josh was so behind the scenes yet present on our wedding day. He captured all our special moments so beautifully.
What was the most unexpected part of your wedding day?
Actually, the most unexpected part of my wedding came from the night before at my rehearsal dinner! I had no idea what my dad had planned for his speech. To give you a little back story, growing up, music was always special to us. We would always sing songs together (he was musically gifted and I was not – ha!). So when my dad got up there to speak he had his guitar and compiled all the songs that were special to us. It was a moment I will never forget, and I am so grateful Josh was able to incorporate that into our wedding video.
What was your favorite part of your wedding journey?
My favorite part of my wedding journey was finally nailing down our venue. I am originally from Nashville, and my parent had just moved back to the Cookeville area where they had both grown up. In my mind, I had always envisioned a Nashville wedding, but after looking at many venues, I realized The Clark House was exactly what I wanted. It was so special for Andrew and I to start our lives in the same place where my parents grew up and met.
What's your #1 piece of advice for future brides?
Try to soak in every moment! There's no denying that wedding planning can be stressful, but it's so important to take a step back and be present. There were too many times I would let my emotions get the best of me, and I just wish I wouldn't have sweat the small things and focused on the bigger picture.