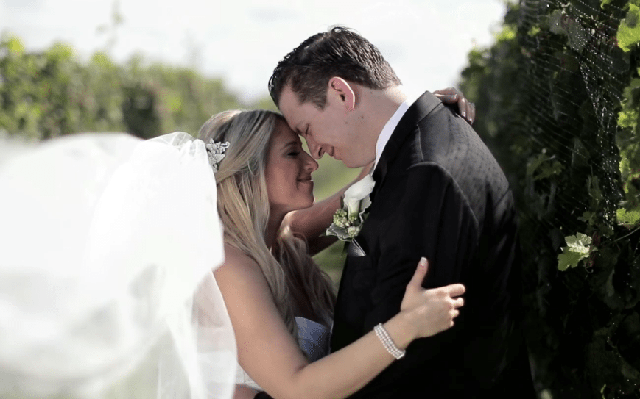 Love Story Of The Day: A Love That's Defied All Odds And Overcome Every Obstacle
Alicia and Adam's story brought us to tears. They have such an incredible bond! Their six-year journey to marriage was one of love and loss, but they made it through together. Alicia calls their journey \"epic,\" and we couldn't think of a better way to describe the power their love has had to bring them through every obstacle set in their path. The positivity that shines through both of them on their wedding day, knowing the road they walked to get their, makes us emotional every time.
From The Bride:
Adam and I first met in middle school when we were 11 years old and in the sixth grade. Although we were in different circles and had different groups of friends, we shared some of the same classes. Adam said that he immediately fell in love with me at first sight and admired me from afar. He even secretly left me anonymous love notes in my locker for a long time. I would go home from school and tell my mom about the notes without a clue whom they were from, and I didn't find out that it was Adam until years later when we were in college!
We dated for a few months towards the end of high school, went to prom together, and then coincidentally chose to attend the same college: Penn State University. In our sophomore year of college, Adam IM'ed me on AOL instant messenger to wish me a happy 20th birthday. When I asked him about his relationship status, he said "I gave away my heart a long time ago and never really got it back." From that moment on, we were inseparable. Adam transferred to a school closer to home that year, so our relationship was somewhat long-distance for a few months. But, I ended up transferring home a year later as well to be with my family while my father suffered from ALS. Adam moved in with my family and helped take care of my dad, and seeing him care for my father the way that he did only made me fall in love with him even more. It was actually through caring for my dad that Adam found his calling to become a nurse.
On our anniversary, Adam took me on a picnic at the little league fields where we both played softball and baseball. While casually eating our favorite sandwiches, laughing and talking, he said: "do I make you happy?" To which I replied, "of course you do!" Before I could process what was going on and catch my breath, Adam was on the floor delivering a beautiful proposal speech that I can't remember one word of because I literally blacked out from shock and excitement. Everything else that existed in the world was a blur at that moment, but I definitely remember saying yes!
Our engagement was probably one of the longest in history — six years to be exact! When you know, you know. We just knew at a very young age that what we had was true love, and time was just a formality. We were meant for each other as soul mates and two halves of a whole heart. Out of respect for my father and his struggle with ALS, we waited until it was the right time to plan the wedding amid the chaos with his health. And, that long wait was well worth it and completely fine with us, because we knew that destiny doesn't have a deadline. That extra time allowed us to enjoy our engagement, celebrate our love, grow up even more, find our career paths, build a solid foundation, and most importantly, spend more quality time with my dad under the same roof. Nobody but our immediate family knew this, but we actually had a wedding ceremony at my father's beside a couple years prior to our wedding, so he was able to be present for that special moment.
We slowly planned our wedding over the course of those six years, but we always knew we wanted to have it at Raphael Vineyard. The planning process was really smooth for us and we had a lot of fun planning all of the unique details.
Our love story really is an epic journey, which defies all odds and overcomes all obstacles. We learned that life and love are both true blessings, and we feel so fortunate to have each other. We hope you enjoy a little piece of our special day!