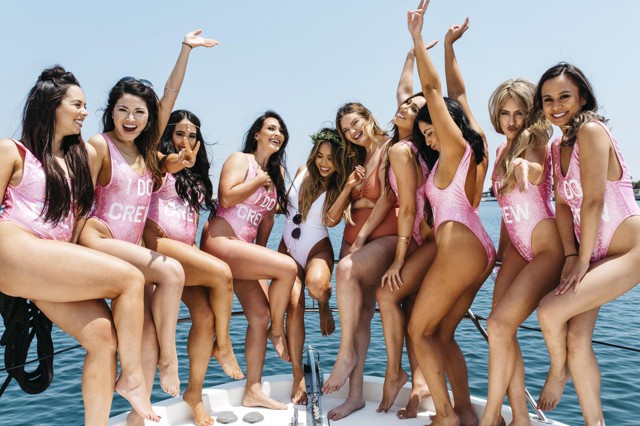 Instagram Influencer Jessica Bailey's San Diego Bachelorette: Yacht Cruise, PJ Party, and Skydiving
I'm very into wedding videos so I watch a lot of them (I mean, I work at LSTV so it is my job), but when I saw that Instagram Star Jessica Bailey aka @jessthrowiton_ shared a bachelorette video I was OVER THE MOON. I honestly hadn't seen a bachelorette video before in all my time at Love Stories TV, and I am obsessed with the idea. What better way to remember all the fun you have with your bridal crew? As you can see in the clip below, Jessica and her friends took over San Diego to celebrate. Activities included a fab yacht party complete with custom swimsuits, a PJ party with face masks for all, and a group skydive outing. Pretty chill. 😜Read on for Jessica's best bachelorette tips, bridal style advice, and party product recs.  —Caitlin
Why did you decided to have a videographer film your bachelorette party? How did you find your videographer?
I wanted to hire a crew to do photo and video because I did not want to have to worry about doing it on my own. Not that my girlfriends don't take great photos, but the 'blogger eye' is very specific and being that I, the blogger, was the one getting married, I knew what content I wanted. I did not want to put that responsibility on any of my bridesmaids as I wanted them to enjoy their time too, so thus the reason for a videographer. I also wanted something to look back on. Memories and photos are great but videos take it a step further. They truly help you relive those moments. I only get to do this once so why not go all out on documenting it! The videographer who ended up actually filming it was my best blogger friend from Alabama who was already flying in to celebrate with us.
Now that you have photos and a video from your bachelorette, do you think they were worth the investment? Any tips for brides who are thinking about filming their bachelorette weekend?
I don't regret spending money. I would suggest brides send their videographer some sample videos of what they want their video to resemble. Expectations can get lost in translation and you should never simply assume the videographer knows what you're talking about without going over specifics. Give them a detailed list of elements you want to include, style of video you want shot, etc. Also, let your 'maids know ahead of time so they're not caught off guard, freeze up, or get nervous.
Your bachelorette looked so FUN. What were your favorite festivities from the weekend?
I wish we filmed the sky diving portion of my bachelorette as well. We went skydiving Friday, the day before the yacht party, and had the entire plane to ourselves during our jump! It was a crazy party flying up to the specified elevation. That was easily the most epic portion of the weekend because, how often do you get to convince all your best friends to jump out of the plane with you?! After that would definitely be the yacht portion! Saturday evening, we got table service at one of San Diego's best night clubs, Omnia.
What are your top tips for planning a hella fun bachelorette party? Any products you'd recommend?
I would suggest that if the bride knows elements she wants, communicate them with your MOH and maids. You girls know you well, but again, they cannot read your mind. My girls really put into consideration that I am a blogger, and picture-perfect moments were important for documenting and sharing with my followers. My girls really paid attention to detail and creating spaces that would look great in video and photos.
An item I loved was our matching pink beach towels that read \"life of the party\" for the yacht portion. [SHOP HERE.]  I don't think I have photos with them, but we now all use the towels every where we go that requires one. It's a great and useful souvenir, and every time I use it, I think about my bachelorette.
Friday night, we did a PJ party, so we spent the night in instead of going out. We did karaoke, made pizzas, and face-masked. I would totally recommend getting face masks — with all the partying and lack of sleep, you still want to make sure you take care of your skin! [SHOP HERE.]
A personalized cup with lid and straw for everyone is pretty important too. I know that sounds cliché and it's nothing new to the game, but when you have 15 girls running up and down a boat throwing their things everywhere, you'll end up using a lot of disposable cups and accumulating tons of trash after. Having our own cups with our own names made it so easy to find our drinks, keep them from splashing, and saved on cleaning. [SHOP HERE.]
Jessica's Top 5 Bridal Outfit Picks
1. A white, classic, sophisticated midi-length dress.I love a good white midi for any event whether it be engagement party, rehearsal dinner, whatever. The midi-length and classic style graduates you from being a single girl in a mini white dress to a more sophisticated bride-to-be. [SHOP THIS LOOK HERE OR HERE.]
[
@jessthrowiton_
2. I wore a one-shoulder bandeau top with these amazing white high waisted trouser pants on Saturday night when we went to the club. Dresses are cute but I feel like it's always being done. I personally just love to stand out haha and why not, I'm the bride-to-be! I feel like you should make your outfits special and memorable — you only get to do this once! I seriously got countless compliments on my outfit, actually, mainly by other brides whom were out celebrating their bachelorette too! They all said they wish they would've thought to wear pants. [SHOP THIS LOOK.]
[
@jessthrowiton_
3. A white jumpsuit. Something about white jumpsuits just looks so elegant and timeless. It makes any individual look more mature. [SHOP THIS LOOK HERE OR HERE.]
[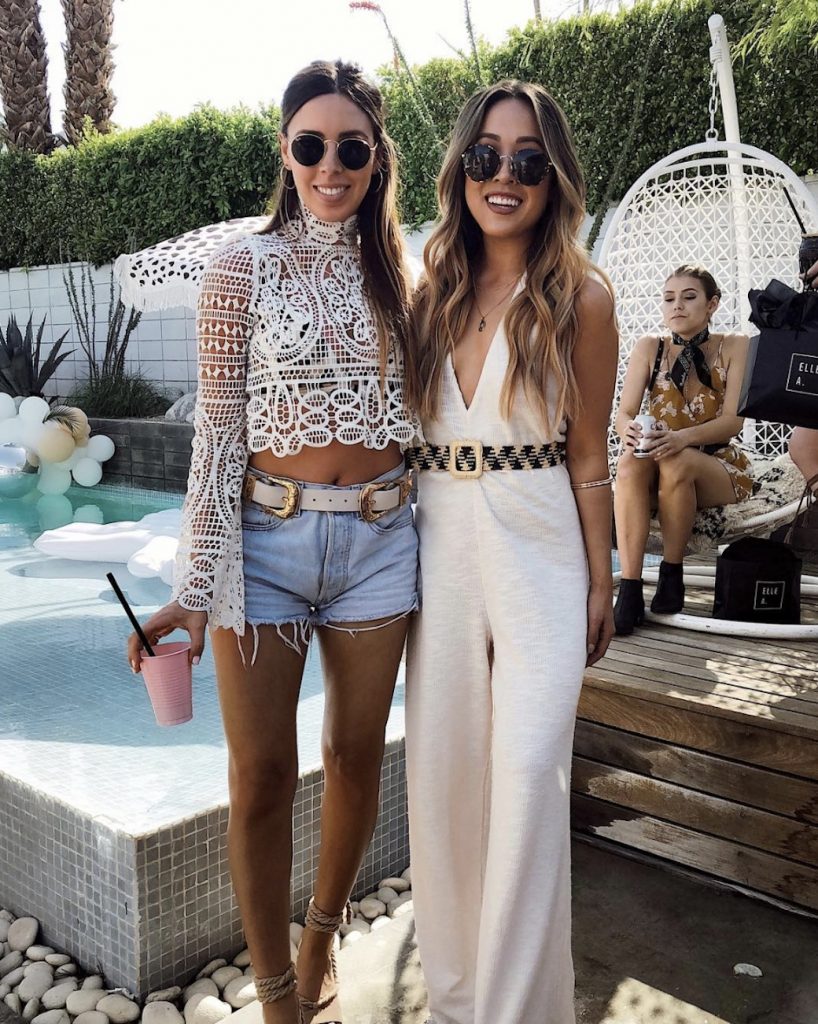 @jessthrowiton_
4. A flow-y, air-y, white maxi-dress for engagement photos. Some girls love to do the semi-bridal look for engagement photos. Although they come out beautiful, personally, I want the only photos I have of me looking like a bride to be from my actual wedding! [SHOP THIS LOOK.]
[
@jessthrowiton_
5. A cute custom denim or leather jacket. I got a custom vinyl decal to put on a red leather jacket that I wore for my engagement photos. It gives your photos a cute flair and edgy touch! [SHOP THIS LOOK HERE OR HERE.]
[