Instagram Influencer Caralyn Mirand's 1920s-Inspired Wedding Will Make You Raise a Glass
Straight up the first thing I did after seeing Caralyn and Brian's epic Gatsby-inspired wedding video by Two Palm Films is raise my coffee cup up to my computer, à la Leonardo DiCaprio.
Plus model and entrepreneur Caralyn Mirand is (lucky for us!) an early-supporter of Love Stories TV. She graciously takes time out of her busy sched to cheer us on at all of our IRL events, and we love her for it. From Caralyn, we've learned a TON about the coolest new products and services for brides- and grooms-to-be. Needless to say, we knew her wedding was going to be one for the books. We are so excited to ~exclusively~ debut Caralyn and Brian's gorgeous video by Two Palm Films with you! Their Gatsby-inspired wedding had the perfect combo of vintage and modern touches. (Think: curated jazz playlists and chandeliers mixed with a neon wedding hashtag sign.) Watch the full film below and read on for our interview with Caralyn. Promise that by the end, you'll love her just as much as we do. ❤️
The Love Story
How did you meet and fall in love?
Brian and I were introduced by a mutual friend after my junior year in college. He was five years older than me and fully immersed into the workforce. We went on a first date for lunch, chatted for a few hours, hugged goodbye and went on our separate ways. We kept texting but things between us eventually fizzled out. I always wondered why Brian never truly followed up after our first date; I thought it went well. Turns out, the timing wasn't right. Fast forward to my college graduation and moving back home to Buffalo for the summer. I found out through our mutual friend that Brian was doing really well and was in the process of buying a home. Not going to lie, I was a little salty. I sent him a text wishing him well and luckily he picked up the hint. He asked me to go on a "second" first date. He picked me up in his truck, found a spot near the waterfront with an outdoor fireplace, and we talked for seven hours. We reignited that spark that was between us the first time. However, my intentions with him were minimal because I had plans to accept a full-time job five hours away. As time evolved, I fell hard for him and he quickly became my best friend. Life without him became more of a daunting task.  He is truly someone who I couldn't live without. He keeps me grounded and focused.
Tell us how the proposal happened.
Brian and I had always discussed the commitment of marriage. We had built a home together, adopted a dog together, and we became a team. So after almost three years together, we knew that it was the right time for us to get engaged. It was a sunny, Friday morning in June and I had exciting plans of getting our air ducts cleaned. Brian had suggested that we go to lunch since he works until noon on Fridays. We previously saw someone go for a picnic near the waterfront, so we thought it would be a fun idea do the same. I was so focused on buying a cheese spread for our picnic, I hadn't even realized that suggesting a picnic was out of character for Brian. We packed up our picnic basket, our dog Walter, and set out for a perfect spot on Buffalo's Outer Harbor. We laid out our blanket, snacks and opened our bottle of wine. Walter kept lunging for the cheese so we tied him to a nearby tree. He was not happy about it…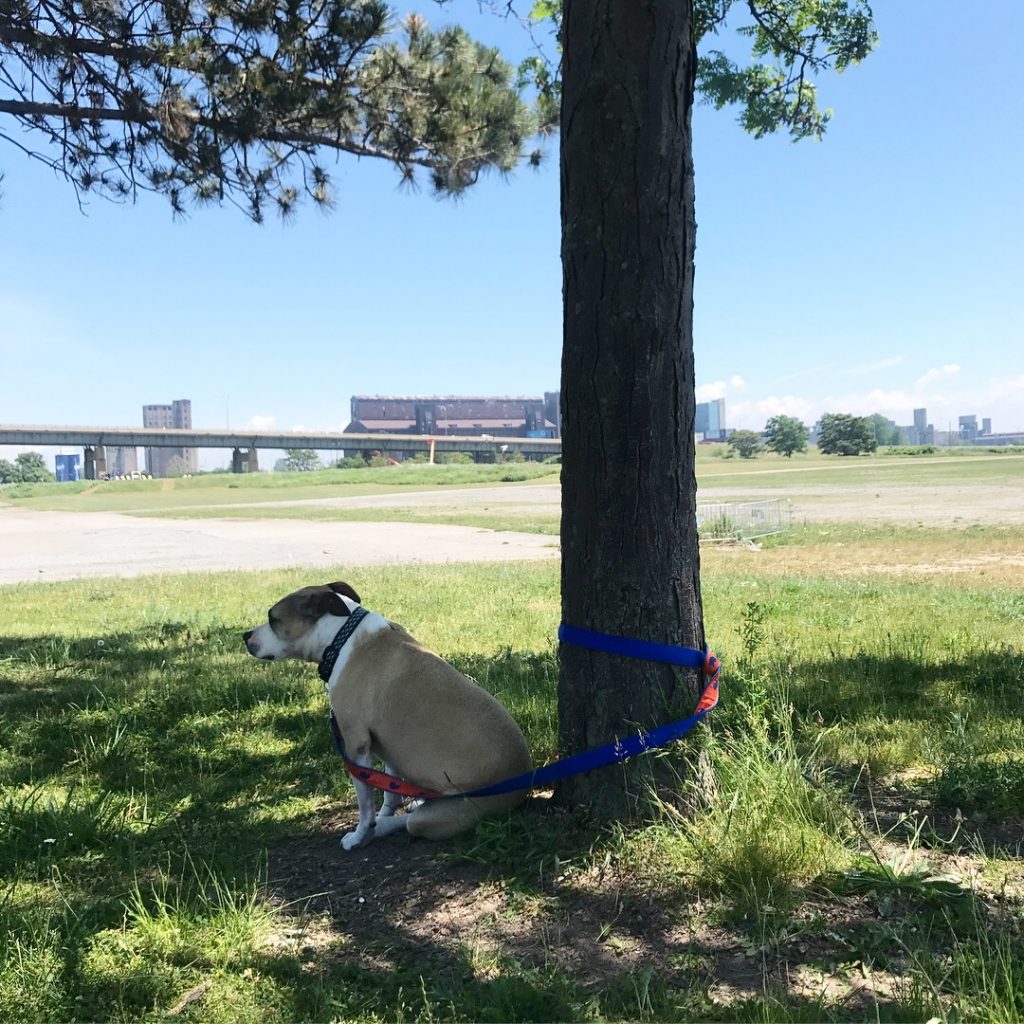 I kept mentioning to Brian that I had "surprise" for him. I found these lemon bars for us to share; not that exciting. Once we were settled in he asked where his surprise was, I responded "where's my surprise?" He said it was in the picnic basket. (Walked right into that one.) I peeked into the basket and there it was, one sparkly ring! Brian got on one knee and asked me to marry him. The best part about the proposal is that we were the only ones there, just our little family. We were able to bask in the moment for ourselves and let it be our little secret. Once the initial excitement sunk in, we were able to pack up and go visit our families. It was a beautiful day!
The Wedding
Tell us about something that was creative or unique to your wedding.
Our venue was a historic hotel in its original day, and was later turned into an event space. It has a very 1920's, Gatsby feel to it so when it came to plan our ceremony, I wanted the music to coordinate with the feeling of the room. I compiled a playlist of old jazz sounds to play as guests arrived and throughout the ceremony. It was a hit— our guests raved about it!
Describe the moment from your wedding day that stands out to you the most.
We did a first look and got the majority of our photos done prior to the ceremony—which I loved—but I thought it would be nice to run out of the ceremony and take some photos of Brian and I right after getting married. It was nice to just be in our own little \"love bubble\" for 20 minutes to process what had just happened! The vibe of the photos are completely different from the pics we took earlier. I'm so glad we had that time alone to enjoy the first few moments of being married.
How did you find your wedding dress? Who designed it and how did you know it was the one?
I had the honor of going dress shopping with my mom, sister and three of my bridesmaids in New York City. I had a general vision of what I wanted and it was a lot harder to find than I thought it would be. To be honest, I never thought that I was going to have that \"moment.\" Well, I did. I held my composure, but my eyes welled up. I turned around to gauge the reaction of my crew and they were also crying. My mother, who is the strongest, fiercest woman I know, was crying. I knew… this was it. They added a veil and jewelry to see the \"look\" come together and I didn't want to take it off! After about twenty five minutes of having the dress on, I tried on a few other ones, then slept on it.  The next day I went back and purchased Martina Liana's 685 from Wedding Atelier. I have zero regrets about that dress—it was perfect for me.
We also have to talk about your beauty look—your glam waves and sparkly headpiece were seriously stunning, and the perfect mix of vintage and modern. Where did you find your headpiece? Do you have any tips for keeping your hair and makeup looking A+ all day long?
Oh, thank you so much! That's exactly what I was going for! I connected with a fabulous company out in Denver, CO named Sara Gabriel and they helped me create the concept for my look. All of my jewelry and veil is handmade from Sara Gabriel! I was able to customize every gemstone and detail.
Tips for hair: know your hair. My hair is very fine and falls flat easily so I wanted to make sure my volume was on point for pictures—another reason I'm so glad I did a first look. I did two trials with different products to make sure we had a game plan to keep my hair looking fresh all day!
Makeup: When it comes to makeup, it should reflect an elevated version of yourself. If you're not one to wear a red lip or smokey eye on a typical day, why do it for your wedding day? I really wanted my makeup to be fresh, bright and clean so that it would highlight my natural features!
Your neon wedding hashtag sign looked SO COOL at the reception! What was the process of getting it custom-made like? Are you ultimately happy you invested in it? Did you get to keep it after the wedding? (Asking for all the millennial women who definitely want a neon sign at their wedding :)
THANK YOU! I actually saw the idea on Instagram about two months before the wedding and I HAD TO HAVE IT! It was a huge hit at the wedding; guests loved being able to use the photo booth and take those photos home. I bought it from a company called EchoNeon and it was very easy to order—I simply typed in my hashtag and chose the color, font and size. On their website they had a simulation of what it would look like on a wall, which was also very helpful. Sadly, the sign is in my basement right now, but I am determined to hang it somewhere—potentially my office! :)
We need details about your dessert table. I saw glitter donuts! What else did you have, and what bakeries/dessert shops did you work with?
OMG YES! I worked with Marisa from B Sweet Designs (she travels btw!) to come up with a concept for our dessert table. I am not a big sweets person, but I knew this would be a fun touch that guests would love. She locally sources all of the different desserts and comes up with a layout for the display. We were able to fully customize the entire table, including hand-painted cookies with our crest on it that features our dog Walter!
How did you find your filmmaker Two Palm Films and what made you choose them?
Great question… so about a month prior to the wedding, I decided I needed a videographer. It was something I always wanted but couldn't get my groom to justify the expense. At the last minute, I stumbled upon Two Palm Films and I honestly couldn't imagine the day without them. They did such a great job of capturing moments while being wallflowers, yet they were so helpful and vocal on poses to get the perfect shot!
What is your favorite moment from your wedding film?
It's SO hard to choose one moment overall, but I just love being able to see the images come to life and relive the moments and emotions of the day. I'm so glad that I decided to splurge on the video at the last second.
What stressed you out the most during the wedding planning process and how did you deal? Any advice for future brides and grooms who might be going through the same thing?
I do not excel at small details. I really stressed over the invitations, name tags, decor, etc. I just don't feel confident in my artistic ability to make sure everything was cohesive and looked good. My biggest piece of advice is to hire a wedding planner if you can! Karina Lopez from KC You There was my sounding board to make sure everything was on point. I also did not have wedding rings 48 hours before the wedding… don't forget about those! Luckily, Jared The Galleria of Jewelers was able to help us in a pinch!
What wedding products and services made your wedding planning (or wedding day) amazing that you would recommend to other couples?
Do not skimp on good hair, makeup and proper fitting undergarments—that was essential in my confidence for the day. As previously said, I'd highly recommend hiring a wedding planner in addition to professional photographers/videographers and florist. I was very blessed to have such an incredible team of people to pull of the day. It truly takes a village. On that note, do not hire anyone who doesn't make you feel AMAZING! It doesn't matter if they're the "best" or "most expensive" in town. If they don't treat you with the upmost kindness and respect, forget them. This is YOUR wedding and you are hiring them to make your life easier!
Last Q! What made your wedding day feel extra special to you and Brian?
It was pretty incredible having the majority of our closest friends and family in one room. [We were] overwhelmed with gratitude.
See the full vendor list for Caralyn and Brian's wedding here.
Check out more films by Caralyn's videographer Two Palm Films here.
Follow Caralyn Mirand on Instagram @caralynmirand and check out her blog for more beauty and fashion inspo here.