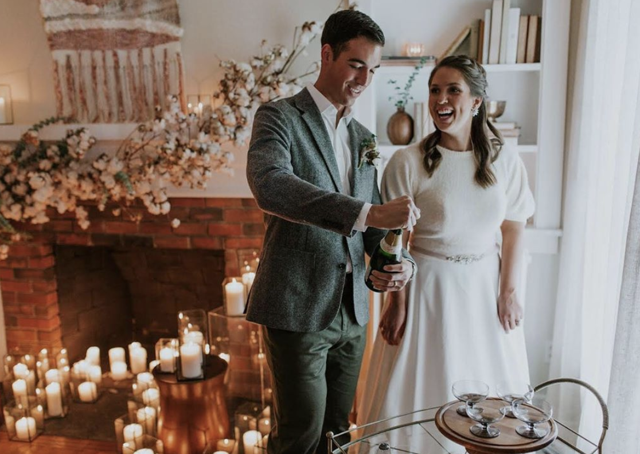 Everything You Need to Know About Tiny Weddings
There's a lot of pressure to throw the perfect, 'grammable wedding these days and it can cost more than you may expect or have been planning for. However, there's a new wedding trend that will allow you to simply sit back and relax while the experts take care of everything, and at a much lower cost—the tiny wedding. We talked to Jamie Gray, the marketing and communications manager at Zingerman's Cornman Farms, to get all her inside info for everything you need to know about tiny weddings.
Why do you think tiny weddings are gaining popularity?
Over the past couple of years, we noticed that there was a significant number of guests inquiring who wanted to get married on our property with limited guests, limited planning, and limited budget. Millennials are choosing to prioritize other major purchases or experiences over large weddings, such as travel or buying a home. Plus, there has been a shift in how families are paying for weddings, expecting the bride and groom to chip in if not pay for it all. Despite these factors, many millennials don't want to lose out having a romantic, Instagram-worthy wedding experience.
What do you think are the biggest benefits to having a tiny wedding?
I think design, planning and, of course, the affordable price are the main benefits for couples. The Tiny Wedding features an exclusive seasonal design from one of Detroit's top event designers. For instance, our winter design is hygge-themed, so very cozy and natural with lots of cream shades, greenery and candles. Our event producers coordinate everything from the arrival to the ceremony to the cake cutting, making each wedding feel spontaneous, effortless and stress-free. And it's all for only $1,750! You get a luxury micro-wedding experience at literally a fraction of the cost at one of the top venues in the region and with some of the best wedding professionals like Modernly Events, Detroit Design Co., Lola Grace Photography and Plume & Proper.
How much does a tiny wedding generally cost?
The Tiny Wedding is an all-inclusive package that starts at $1,750. Upgrades include additional guests (up to eight), live ceremony music, wedding party florals or a meal to take home by our executive chef, Kieron Hales!
What does a tiny wedding include?
Our Tiny Wedding includes an hour and a half rental of our award-winning venue, wedding coordinator, wedding ceremony and officiant, wedding photographer and 45 digital images, two bouquet(s) and/or boutonniere(s), wedding cake by Zingerman's Bakehouse, sparkling wine toast, wedding witness keepsake and, last but not least, a farm animal visit!
What kind of options to couples get when planning a tiny wedding (how many cake options, music, etc.)
We offer eight cake flavor options, two of which are gluten-free and three are vegan, plus six cake filling options, five buttercream and one vegan option. The floral options depend on the season and we'll play the music of your choice, so those options are limitless!
You can plan a tiny wedding all on your phone, is this correct?
Yes! Simply visit thetinywedding.com and click \"Book.\" With just a few clicks, couples can select their date, time, cake flavor, floral choice and…voila! That's it.
How many people typically attend a tiny wedding? Is there a limit?
The package is designed for the wedding couple and two guests. For an additional $45/person, you can add up to eight additional guests. So, basically, there is a 10 person maximum, including the wedding couple.
Is there anything people have said they wished they had included in a tiny wedding?
Not that we've heard of!
Anything else to add?
Because of demand, we've added a few more times for Winter 2020! Only four spots left, so book today at thetinywedding.com. (Booking for Winter 2020 Tiny Wedding season closes Friday, January 17th.)