How to Plan The Ultimate Non-Traditional Bachelorette Party
We love a good non-traditional, well…anything, but we're definitely about it when it comes to the wedding industry. This is one of the biggest days of your lives so it should be exactly how YOU want it, not how tradition dictates it SHOULD be. And that goes for all your wedding events! If you want to do a wedding shower, instead of a bridal shower, more power to ya! Bachelorette party without the drinks on drinks on drinks? Your liver will thank you. We talked to recent bride, Kayla Kaplan, about her own bachelorette party and how she planned a totally awesome road trip with her besties! We'll let Kayla take over now…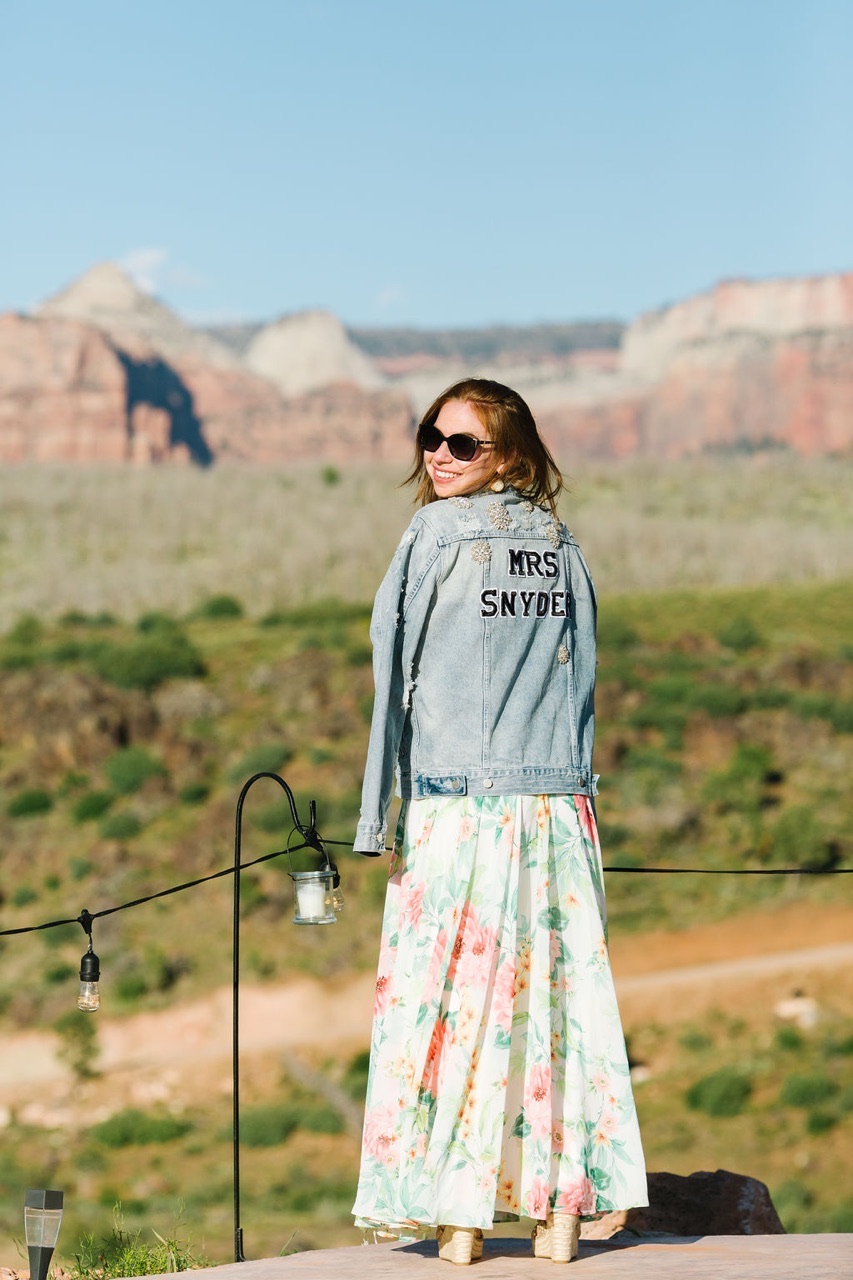 Hi, I'm Kayla! As the bride, it's not "typical" to plan your bachelorette party but I believe in making your own rules and when it's your wedding, it's your rules! As a publicist, event planner and overall Type A person, I knew if I wanted to plan exactly what I wanted, it was better to just take the reins myself. 
Although I love my tequila shots when I go out, at the end of the day, I am not a big drinker.  I wanted to plan a trip that was memorable, not a blurry weekend with sloppy photos. I wanted something adventurous, but something my girlfriends hadn't done before so it would be worth their time and money, which led me to glamping! It's outside but still comfortable with beds and heated toilets. I also wanted to have little cell service so my girls would be using their hands to eat s'mores instead of posting every two seconds.
Since I was getting married in June, I wanted to book my bachelorette party in May and my birthday also happens to be in May, so what better way to celebrate than by combining the two! Warm temperatures, mountains and fresh air were three of my must-haves so I ultimately landed on a road trip through Arizona and Utah.  
Before diving into my tips, I want to emphasize the most important thing to remember—this is about you and what you want! Don't plan your bachelorette party because you want to impress people or think you need to live up to an unrealistic expectation. If you want loud and crazy, do loud and crazy. If you want intimate and local, do intimate and local. Only invite people you really want to spend time with, not because you feel forced. At the end of the day, be selfish. Hopefully, you only do this once, so make it about you!
1. Be conscious of everyone's schedules
I started emailing my bachelorette party in July 2018 and my trip wasn't until May 2019! Yes, I was a bit nuts, but I wanted to make sure everyone was on board with the tentative schedule and dates. I also provided three different flight options—morning, afternoon and evening—so people could choose the one that worked best for them. I encouraged everyone to try and find flights early since I knew they wouldn't be cheap the closer we got to the event.
2. Be realistic and know your audience
Just because you want to wake up at 4:00 am every morning and do a 12-mile hike doesn't mean everyone else will want to. Pick out the key activities you couldn't live without and build your weekend around those. I'd never been to Zion Canyon and I kept seeing Antelope Canyon all over Instagram so I knew I wanted to hit those spots. I also thought Horseshoe Canyon was cool so I made sure to include it as well. As far as accommodations, I had heard of Under Canvas and their reviews were fantastic. There happened to be an "Under Canvas Zion" that was only a 35-minute drive from Zion Canyon so, done and done!
3. Be transparent
I always made sure my girlfriends were in the loop with the cost of activities, what I was looking to do and what to expect on the trip. I made a schedule, a packing list and a budget tracker to ensure there were no surprises ( did I mention I was a Type A personality?). We rented three cars at the same price and place (Enterprise) and split the cost so everyone felt able to switch cars and hang with different people. When reaching out to vendors to see if they could accommodate large groups, I always told them it was my bachelorette party and most of the time they appreciated that I took that extra step to communicate one on one with them. I am not saying this gives you automatic deals, but, hey, sometimes it worked. A girl needs to save where she can! Because I live in NYC, I never met any of the vendors I spoke to so it was important for me to have an understanding of the terms and payment in writing before moving forward.
4. Make it extra special and memorable with one fun activity
Something that wasn't in the budget, but I thought would be a great experience was this "Bachelor-style dinner," as my girlfriends called it, on the last night of our trip. This was an expense that I saved up for so I covered most of it, but did ask the girls to chip in because I knew it would be worth it. I worked with Kasi Miller who helped me put on a dream dinner under the stars at Under Canvas Zion. She helped coordinate all the décor, catering and setup. We had a three-course meal with the mountains as a backdrop and it was simply beautiful. My now-husband knew how special this dinner was and how long it took me to plan it so he ended up surprising me with photographer McKenzi Felt Dye to shoot the dinner! Now I have the memories to last forever, which was SUCH a great gift.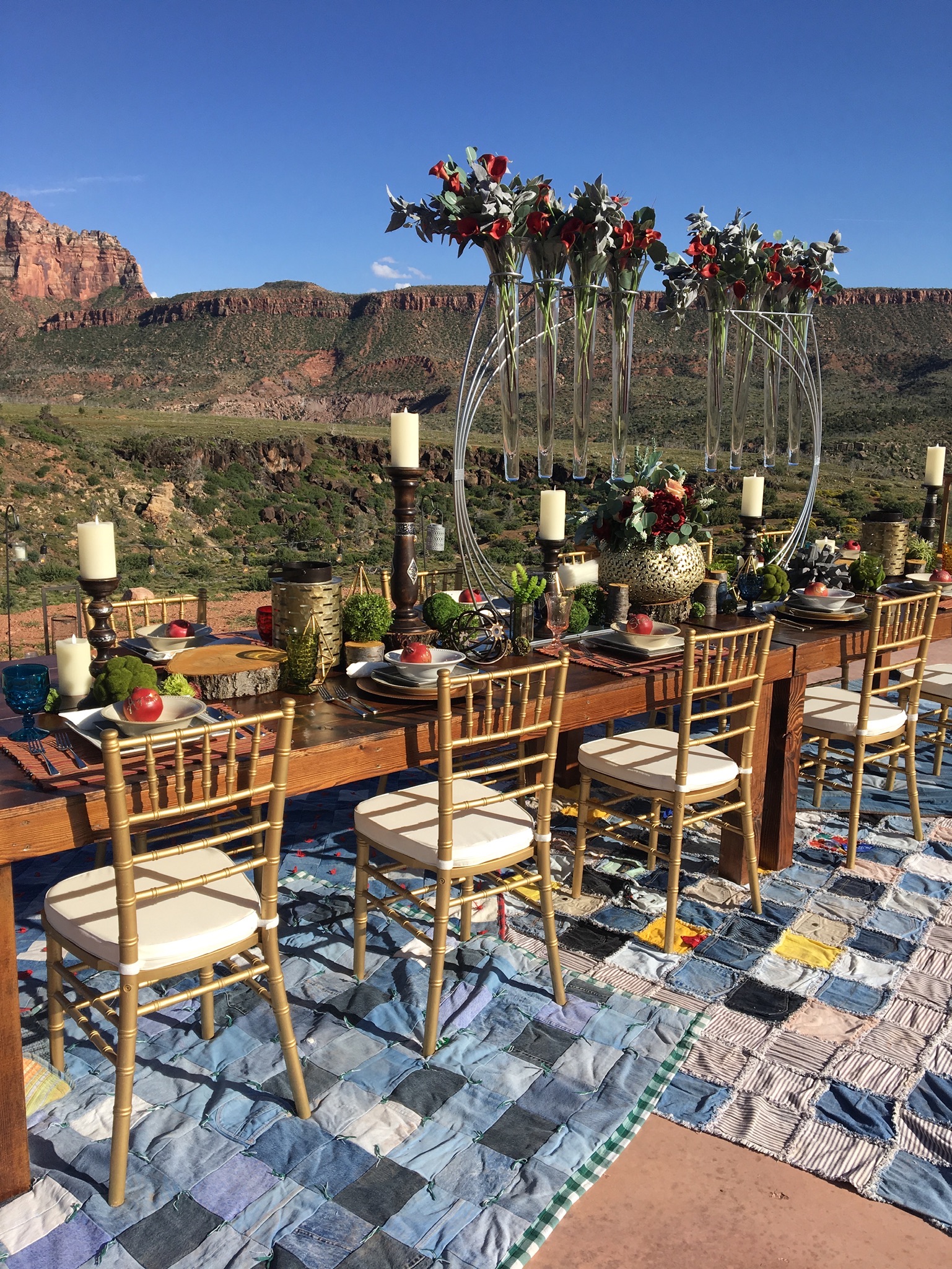 If you're interested in our schedule, you can find a super brief version below! 
Thursday:
Everyone arrives in Phoenix (three different groups, so three different times) 

Quick pit stop for food at New Wave Market

Airbnb in Flagstaff

Dinner at MartAnne's Burrito Palace

Everyone opened their gift bags, which included an itinerary, beanie, fanny pack, fuzzy socks, hair scrunchie, shower sandals and face mask.
Friday:
Single Speed for coffee and breakfast sandwiches

Horseshoe Bend (Tip: It's $10 dollars per car upon arrival, but I would advise getting there before 10:00 am. If it's too crowded, they won't let you in!)

Antelope Canyon (Tip: Book in advance! We went at 11:30 am because I had read it was the best time to see the views. I was in communication with the company at least six months in advance so we could book it as soon as it became available—it was well worth it!)

After the canyon, we drove to Under Canvas Zion

We booked the Safari Tent (4 beds, very comfortable and spacious) and the Stargazer Tent (a bit pricer, but you get a shower and toilet in the tent and I loved the added luxury!)

Enjoyed dinner and s'mores before we crashed

*
Saturday:
Zion Canyon (Tip: Book Wildland Trekking! They're so good at providing first-class service in terms of knowledge, safety and great hike options. Also, snacks, lunch, backpacks and hiking poles are included. 

Dinner under the stars
Sunday:
Drove back to the LAS Airport for our trips home (Tip: I chose this airport because they had more options and were cheaper than flying out of Salt Lake City.)
So, if you got through ALL of that, I leave you with my final tip—enjoy it! Pretty sure I mentioned this already, but it's the most important thing! This is a rare moment in your life and you'll likely never have this specific group of people together doing these specific things again. Soak it up and enjoy every minute because, before you know it, you are back home looking at all the photos wishing you could do it all over again!