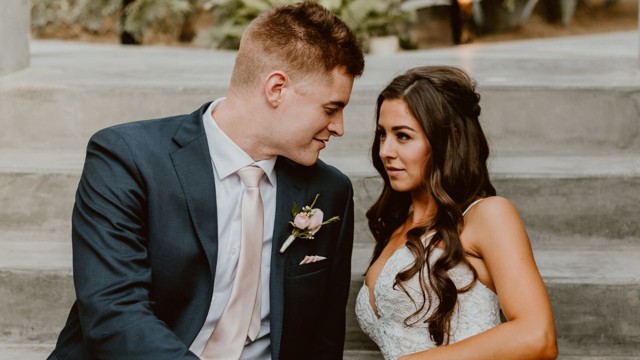 Inspirational Speaker, Kevin Atlas, Knew He Wanted to Marry His Wife the Day They Met
There are some wedding videos that are just so emotional, so over-the-top or so absolutely stunning, we feel they deserve a bigger accolade on our site, like the title of Love Story of the Week! Kevin is an inspirational speaker, so he's pretty used to being a role model, but we bet he and Brooke never expected just how inspiring their gorgeous destination would be!
Watch the video by Matter Video and then scroll on for an inside look at Brooke and Kevin's planning process, tips and vendors!
1. How did you two meet?
We met at Kevin's cousin's wedding! Kevin was officiating the ceremony and I was there early to help set things up. We exchanged a quick "hello" before the wedding began and were sat at the same table for the reception. By the end of the night Kevin told his cousin and friends that he was going to marry me (lol). In Kevin's exact words, "Brooke was the first girl I was ever struck by."
2. How did the proposal happen?
We took a trip to Italy to celebrate my graduation from dental hygiene school. Kevin planned a beautiful dinner when we were in Cinque Terre, Italy at a restaurant called Belforte. We had a seat right on the cliff side with beautiful views of the Ligurian Sea. It was so beautiful and romantic. Our table was sat next to two friendly, tipsy blonde women from Florida (mind you, people dine CLOSE in Italy). Kevin slipped out to give his phone to the waiter, to film the proposal. When he came back, I was fully engaged in a conversation with the two women. The waiter came out a bit earlier than Kevin anticipated, while I was still having a conversation with these women! I saw the phone and instantly wondered why the waiter had Kevin's phone. One of the women blurted out, "OMG! You're not proposing are you?!" to which Kevin's response was "Well, the cat's out of the bag now". Now, if you know Kevin, you know he's hilarious and for a second I wasn't sure if he was joking or was really about to propose. Sure enough, he reached for his pocket and got down on one knee. The women ended up taking hundreds of pictures of the proposal and felt so bad for spoiling it.
3. What are each of your favorite things about your relationship?
Brooke: I love how much we laugh…we laugh a lot. He's such a loving and loveable human, it's hard to not feel like the luckiest woman to be with him.
Kevin: My favorite thing is that I'm married to my best friend.
4. What was the first thing you did as an engaged couple?
We celebrated with delicious aperol spritz' by the water. Kevin proposed fairly early into our trip, which was wonderful, because we had time to celebrate our engagement in several different Italian cities!
5. What was your budget?
I'll just say that it wasn't cheap. While I don't believe you have to spend a lot of money in order to have a beautiful wedding, we do not regret spending what we did on our special weekend.
6. What were your top three priorities when planning your wedding?
We wanted a destination wedding. 2. We wanted it to be FUN—we wanted our wedding to be forever memorable (both to us and all our guests). 3. Killer photos and videos to reminisce.
7. What did you each think the first time you saw each other on your wedding day?
Brooke: I'm an emotional person to begin with, so naturally I started crying the second I began walking down the aisle. It is such a rush of emotions! Kevin looked so handsome and it was incredible to see all our wedding planning come to life—seeing the ceremony for the first time, was so emotional!
Kevin: She's the most gorgeous person on the whole planet and I love her so much. I'm so lucky.
8. Did you write your own vows? If so, what personalized details did you add? If not, how come?
We did choose to write our own vows. We felt it was more personal that way and honestly the guests love hearing personalized vows. Give the people what they want, you know?!
9. Brooke, you looked absolutely gorgeous! Can you talk about your dress shopping experience and how you found THE dress?
At the time, I was living in Northern Nevada and decided to start looking locally in Reno. I chose my mother and grandma to come with me. We looked at three different wedding shops, but I had my heart set on the gowns at Swoon. Their boutique is to die for. Sure enough, I found my dress there! My dress, made by Pronovias, was all lace with mermaid cut, open back, and a chapel length train.
10. Kevin, you looked pretty dapper yourself. Can you talk about your suit shopping experience?
Kevin's suit shopping experience was not a good one, unfortunately. As no surprise, he has to have any and all suits he owns custom made due to his height and left arm. Everything and anything that could go wrong went wrong, with the exception of getting his suit to Mexico for the wedding—thank goodness!
Kevin's response: "They say you're going to like the way you look, and they're right…after the tenth try. I'm 7 feet tall with one arm and Men's Wearhouse had a difficult time with that. The worst part about the suit shopping was that Brooke wanted to do a secret surprise. My mother had passed away the previous year and the nurse had given me an electrogram representing her last heartbeat. Brooke had it embroidered inside my suit, over my heart, which I didn't know about until the morning of the wedding. Since Men's Wearhouse kept messing up on my suit (they lost and misplaced stuff constantly), they had to start from scratch and it was hard for Brooke to finish her surprise in time. But Brooke, being as amazing as she is, got it to work out and it was perfect."
11. You had almost a modern, tropical theme, how did you come up with details like the ceremony arch?
A LOT of research. Almost daily I was looking up wedding décor through Instagram and Pinterest. I came across a social media influencer whose wedding quickly became an inspiration for ours. Needless to say I picked things about hers I liked to incorporate into ours.
12. You were married in such a beautiful location, what made you choose this venue?
Again, through the social media influencer. I did consider other venues in Cabo, however we knew Acre was the perfect destination wedding venue. We loved that we didn't have to spend much money on greenery or décor, especially for the ceremony, because it was already so lush and gorgeous.
13. Because you had a destination wedding, did you have a whole wedding weekend? If so, what other events did you throw?
Yes! Since our wedding was on a Sunday evening, we had a happy hour pool party/welcome reception on Friday and did our rehearsal dinner Saturday night. It was such a nice thing to do so that guests had already met and mingled prior to the wedding Sunday night. Your special day goes by SO fast, we highly recommend stretching it the entire weekend—it is worth it!
14. It looks like y'all's reception was a PARTY—how late did your reception go and did you go with a band or DJ?
Oh, it was! As I mentioned, FUN was a must for us. Our reception ended at midnight. We went with a DJ because we had a diverse guest list and we wanted to make sure there was music for everyone. Everyone loves a good DJ…and we loved ours. We highly recommend Alex DJ to anyone getting married in Cabo!
15. Why would you suggest hiring a videographer?
Hiring a videographer was important for us because we wanted to be in the moment. Part of this was having someone capture photo and video to look back on and relive those memories. We cannot recommend our videographers enough. As high on our list as a videographer was, our expectations were blown away by Dan and Tony of Matter Video. Not only was the quality amazing, but the turnaround time was exceptional. We had a 60-second trailer before we woke up the next morning.
16. What is your favorite memory from your wedding day?
Brooke: It is truly hard to pick just one. I loved our ceremony and being pronounced husband and wife. From that point on, it was party time. The reception details were absolute perfection, from the copper silverware to the custom maracas. Ah! I just loved it all!
Kevin: My favorite memory from our wedding day was when I saw my bride walk down the aisle—and knowing that she was the right person for me to spend the rest of my life with. That, along with being reassured by the surprise she left in my suit jacket.
17. What's your top tip to all soonlyweds out there planning their weddings?
There's a way to have a phenomenal wedding without putting yourself in debt. As expensive as weddings are, we're really happy we did a destination wedding and aren't a couple who look back on their wedding day with regrets. Having the whole weekend to hang out with guests made it so that on our wedding day we spent more time having fun rather than socializing with guests at their tables.
18. Who were your favorite wedding vendors and why?
Matter Video, Shawna of Girl with a Curling IronAcre Baja—our gorgeous wedding venue. All these vendors were prompt, professional, and fun. Having a destination wedding can provide an additional stress since there's travel involved and lots of planning goes physically unseen. I put a lot of trust in Acre, and all our vendors for that matter, that it would be everything we'd envisioned…and it was. Two other companies we loved and would highly recommend were Minted and For Your Party. I created our wedding invitations through Minted and custom cocktail napkins with For Your Party. Both companies have amazing customer service and beautiful products.
See all the vendors here