The Best Way to Give Back At Your Wedding: Donate Your Flowers
Close your eyes and conjure up a scene from Prince Harry and Meghan Markle's wedding. If you're like me, you picture Meghan and Harry walking down the stone steps of St. George's Chapel, framed by an elaborate floral arch sprinkled with Princess Diana's favorite white roses a picture — a perfect moment. 😍
Whether you're marrying a prince or planning a destination wedding on the coast of Italy, flowers are likely to be a focal point of your wedding. Jennifer Grove, CEO and Founder of Repeat Roses, is on a mission to make sure you get the most out of your gorgeous blooms, regardless of your floral budget.
Jennifer's career spans everything from corporate communications to merchandising. Most recently, she owned a high-end boutique wedding and event design company, where she became intimately familiar with the amount of waste in the event industry, particularly when it comes to floral design. As you can imagine, the luxurious soirées she brought to life for clients involved a serious amount of flower power. After seven years of watching beautiful bouquets, centerpieces, and custom flower walls wind up in the trash, she knew she wanted to find a way to make events more sustainable and give flowers a second life. Enter: Repeat Roses.
Founded in 2014, her company donates flowers from weddings and events to charities across the country. Later, her team will go back to the non-profit locations to pick up all of the flowers for composting and recycling. We sat down with Jennifer to learn more about her amazing company and its mission to spread flower joy while making the event industry more sustainable.
How did you get the idea to build a company that donates and recycles flowers? Was there an "aha" moment?
This was one of those moments that had built up throughout my entire career designing events, producing events, and attending events. That came to a head after seven years of specifically being a wedding and event designer. Weekend after weekend, I was putting together these beautiful wedding experiences for clients and I realized that if I was dedicating so much of my client's resources to all these beautiful florals, knowing that they were winding up in the trash a few hours later, it was also happening throughout the state and across the country.
I loved every single thing about designing flowers. I loved working hand-in-hand with brides and the florist to design beautiful centerpieces, whether the bride had a $5,000 budget or a $50,000 budget, or a $250,000 budget. Flowers are meant to be a big part of the wedding, but it's amazing when you think, what else would you possibly spend that much money on, enjoy for a couple of hours, and then throw in the trash?
Let's face it; weddings feature a lot of flowers because it's such a beautiful part of the experience. It's something that's included in almost every single wedding. But the volume of flowers that gets tossed in the trash at the end of the night is something that I wanted to figure out a solution for, rather than seeing them all wind up straight in the landfill.
What is the process of donating event flowers like and how do you work with your clients to create a meaningful experience from start to finish?
We donate the flowers and arrangements to a charity that's really near and dear to the bride's heart. Maybe it's an organization that she already volunteers for, or maybe it's something that the bridal party wants to pick together. Or, we can do our straight recycling and repurposing services. A bride says, you know, I am spending all of this money on my wedding, so here is one way to include something that is going to create a give-back to the community and also something that's really eco-responsible. It's a way to reduce their waste at their wedding. They hire us to come in at the end of the night, pick up all of the flowers from the ceremony, cocktail hour, reception, etc. The flowers go back to our service team's studio where they get restyled in smaller arrangements, and then within hours, those flowers are matched and delivered to patients in hospitals, cancer treatment centers, mental health facilities, homeless shelters—you name it. There are so many places that we can deliver flowers to that make a positive difference in somebody's life. And then there is that final step where Repeat Roses will go back to those non-profit locations and pick everything up for composting and recycling so that we don't leave anything behind. We make sure nothing winds up in the landfill, so it's truly a zero-waste experience.
The newest initiative for us is the bachelorette and bridal parties that we're doing. I think it's a great way for people to bond and create a meaningful experience together where they drink wine, design flowers, and do something as a group before going out for their wild and crazy night—or maybe this is to replace that. You can make some flower crowns, design florals, do something different, and have a very Instagrammable moment together. We really love getting people together to do something really engaging with flowers and customizing the experience for them, so clients know a little bit more about how we work.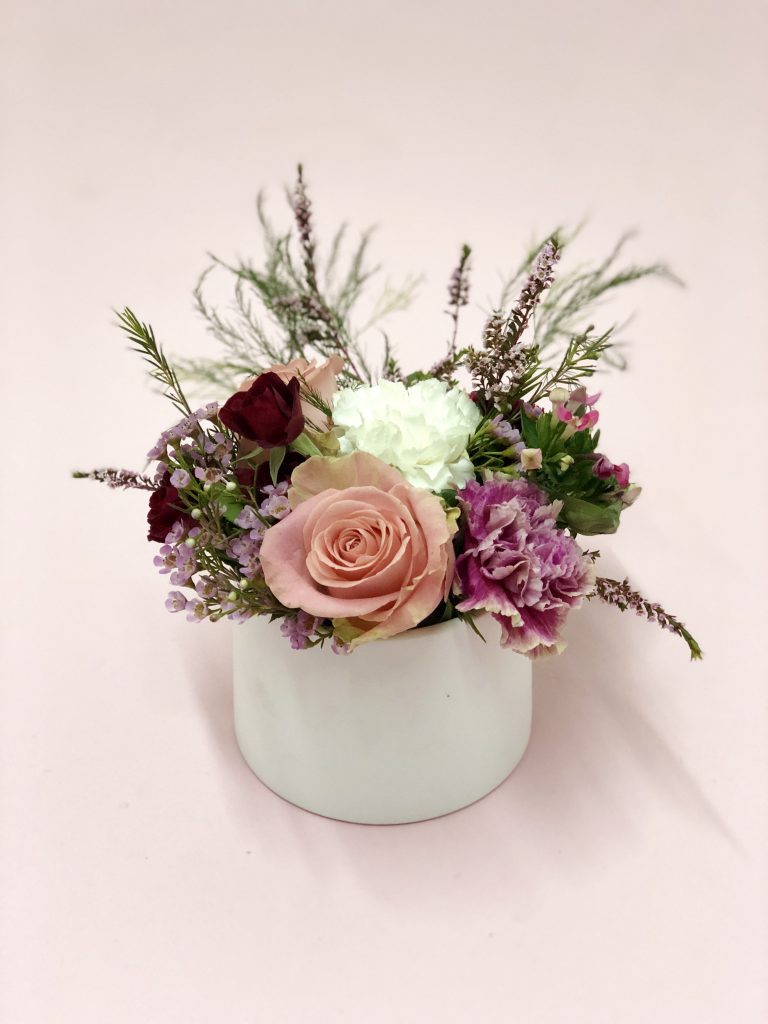 Making the event industry more environmentally friendly is central to the Repeat Roses mission. How much waste do you help to save at a typical wedding?
It's really fascinating, because if you think about how a wedding works, the linens get reused, the tables and chairs get re-stacked, the glasses get reused, but not the flowers. Large weddings can have 400 lbs. of flowers to even over 2,000 lbs. of flowers. We're able to divert all of that from winding up in the garbage. We give them a second life, and make someone else happy who might never have the chance to otherwise enjoy such beautiful flowers. That positive, uplifting experience makes a difference in someone else's life, and then we can compost that and make sure it's responsibly disposed of.
Your team puts considerable effort into coming up with a meaningful way to repurpose every flower. We actually have a really amazing wedding video on our site from some of your clients: Alessandra and Nick. They have this amazing rose flower wall that your team figured out a way to transport intact to The Ronald McDonald House. Families staying there took portraits in front of the wall that they were able to keep forever, which is so cool. What is the process like for you guys to come up with these impactful experiences?
It depends on every couple, because every couple wants to have an individual, special day. We get to play matchmaker and every match that we make should be special. Some couples do leave it up to us. Alessandra and Nick have to be one of our all-time favorite couples. I feel very lucky that we actually got to know their family. We had an opportunity to meet with them and talk about what would be meaningful, and they asked specifically if we could do something special with that flower wall. So we worked with Ronald McDonald House, which is a clean, safe, home-away-from-home for pediatric cancer patients and their families. Some patients have to go through treatments that can be anywhere from four months to eight months, and their families have to change their entire lifestyle.
We disassembled that giant flower wall, reassembled it at the Ronald McDonald House, and brought in a photographer who did a portrait session with families who wanted to come in and create a keepsake memory. I thought, this couple is so amazing to want to do something kind and giving, and include that in their special day. They're both two talented, creative people in the first place. They actually created an Instagram account where they shared individual pictures of every guest at the wedding in front of the flower wall. It then transitions into the pictures of families from the Ronald McDonald House who gave their consent to be included. What a great way to show how to pay it forward in this world. Are you crying yet?!
Do you have any other really interesting or fun donations that you are super proud of?
We did one last week where we donated plants. The recipients were at the Unique People Services, which is a housing program here in New York City for formerly homeless, mentally disabled, and individuals living with HIV/AIDS. There are over 800 people transitioning into the housing program across the boroughs in New York. It was so gratifying to know that we were giving them something that we weren't coming back for a week later. We gave them a houseplant — ferns and succulents — that they get to keep and nurture and enjoy in their new apartment. The reactions that we got for that act of giving were amazing.
We don't always get to interact or interface one-on-one with patients, obviously, for privacy considerations; sometimes we just make a delivery. But on occasion, some of our partner organizations allow us to hand-off the delivery and chat with people. It's really nice to be able to spend a few minutes and chat with the nurse, who is going to the be the person passing out the flowers, because they have been instructed to pass the flowers out to people who otherwise will not be getting any visitors that week, for example. So we know that we are really making a difference in someone else's life, and for us, it's all about capturing that moment. It's amazing because as the newlywed couple embarks on this big new chapter in their life, they have already created their first charitable act together by including Repeat Roses in their wedding experience.
Weddings are obviously really huge for flowers, but Repeat Roses also works with a lot of companies (like Love Stories TV!) on corporate events. Can you tell us a little about the companies that you work with and the types of events that your team is able to put on?
We work with companies ranging from financial institutions to retailers. We just did a really exciting donation of flowers from the Zimmermann runway show at New York Fashion Week. They used over 10,000 live blooms, which was incredible and was so beautiful. They did such an amazing job of incorporating this design element into their presentation.
If your runway show or your photoshoot or your corporate meeting lasts for matter of minutes, why not help create an experience that your employees and audience can watch unfold online and know that it's creating that ripple effect in the community, that extends a little bit longer? Repeat Roses helps partner with companies that want to do some good in the community.
Repeat Roses has a partnership with Zola now! How does it work?
It's a similar process as registering for a gift card on Zola. So this way, someone who wants to include the Repeat Roses experience in their registry, can do it. Your friends and family can contribute and help you cover the cost of the give-back experience.
Weddings are super expensive. What might you say to someone who is on the fence about trying to work in this flower donation into their budget?
We are a for-profit company— we pay all the people that are involved in making this happen. When we send teams in the middle of the night to pick up the flowers, they are not volunteers; they are trained professionals who are pulling the flowers and designing them into new flower arrangements. Then, there are all the logistics and coordination that go into effect. Our fees are justified, and we know—me especially coming from the wedding world—what the wedding budget looks like. This is the one place in your list of 19 different vendors that can actually generate a nice return on your investment. In addition to giving back and making sure that you reduce some of the waste at your wedding though our composting portion, we can also make sure that you get a donation acknowledgement letter from the charity that we match your florals to, and you can use that for a charitable tax credit. So if you have spent money on your flowers and you are looking for a way to give back, this a great way to get a little bit of a tax deduction and get a return on that investment.
What do you hope Repeat Roses will be doing in 10 years?
As the company grows and we're getting more international wedding requests, we are excited to lead the way changing the conversation about floral waste. As more people across the globe prioritize sustainability and making sure that they are including waste-reduction initiatives in their corporate and social events, the sky's the limit in terms of what we can do. I'm really excited to inspire more people to think about the impact they can create, both in terms of the environment and the positive effects of giving back to the community.