This Couple Planned a Fairytale Scottish Elopement
There are some wedding videos that are just so emotional, so over-the-top or so absolutely stunning, we feel they deserve a bigger accolade on our site, like the title of Love Story of the Week! Breonna and Carlos ultimately decided all they needed for their dream wedding was each other, which is incredibly sweet, but we also love how they were able to combine traditions from their respective Italian and Mexican heritages with the Scottish traditions of their locale.
Watch the video by Lahmann Film Co. and then scroll on for an inside look at Breonna and Carlos' planning process, tips and vendors!
1. How did you two meet?
Our story really is East meets West. I grew up in rural Pennsylvania and Carlos grew up in Southern California. I have always been an adventurous person so after I graduated high school I decided to pack up my little truck and my dog Tobey and move to California. I did not know anyone that lived there at the time so this was bound to be an adventure. After a super rad road trip, I finally got there and started renting a room in someone's house. After I was all moved in, my housemates(a very creepy old couple, not the smartest move on my part) told me about Clark's Groceries; which is like vegan Narnia. Having lived in PA all my life and veganism not being very active there I was stoked to find that a place like that existed. While perusing over some apples I noticed this very handsome guy who I thought may have been giving me a side glance :). So I decided to linger about the apples a bit hoping for him to make his way over, thankfully that is exactly what happened. The opener to the conversation was me complimenting his Game of Thrones sweatshirt and we went into some nerdy game of thrones theories conversations after that. After talking for what felt like forever I mentioned I was new to town, he offered to show me around, we exchanged numbers and, as they say, the rest is history.
2. How did the proposal happen?
The proposal happened at 3 am in our home. Carlos tried for months to get everything in order(something he told me many months later because it was still bothering him) He was going to have fireworks but couldn't get the permits. Then he was going to have my family come to our home and surprise me with a beautifully decorated deck….but my family is extremely difficult to get together. So on May 12th at 3 am I was coming home from going out with one of my friends; her and I went to see a local band that Carlos didn't really enjoy. When I got home he seemed flustered. He said \"baby I'm sorry this isn't romantic like I know you would've liked it to be but I can't walk past our guest room one more time without giving you this. He read me this poem \"Unable to perceive the shape of You, I find You all around me. Your presence fills my eyes with Your love, It humbles my heart, For You are everywhere.\" The poem is from the shape of water, poetry is something I hold very near and dear to my heart. I am a writer and poems are like music to my soul haha. While reading it he got down on one knee as I sat on the edge of our bed and opened up the ring box. I cried my eyes out. Simple and perfect.
3. What are each of your favorite things about your relationship?
Breonna: One of my favorite things is how silly we can be together. We do this thing that may sound terrible, but it's so funny, we greet each other by saying "what's up, mothafucka" like Samuel L. Jackson and no matter what is going on we bust up laughing. We are constantly goofing around and all those little silly moments are one of my favorite things about us. We have so many inside jokes and silly ism's; as cliche as it sounds, he is my best friend and even though nothing is perfect the moments filled with laughter are abundant and my favorite thing about us. We are just a couple of weirdos.
Carlos: I love that we can be ourselves around each other. Breonna is one of the most genuine humans I have ever met and when I am with her I feel so at ease. I have never met anyone that I could be 100 percent myself and that is my favorite thing about us.
4. What was the first thing you did as an engaged couple?
We went to an antique Volkswagen show with my dad, haha. I have a 1973 Super Beetle that he and I had restored together and the show was something my dad and I would do together when I was younger. We had agreed to go a few weeks before and I didn't want to miss it. My dad was so excited when we told him. After the car show, we went to our favorite place, the Hummus House with my mom and dad (they're separated) and had a celebratory feast.
5. What was your budget?
We set our budget to around $5,000. We spent overall for the whole trip 4,600 rounded. That included our Airbnb, car rental, all food for us and our photographers, the paperwork costs, our clothes, etc. Everything. We decided we wanted to have a beautiful trip but to make sure we were not breaking the bank. We are humble people and I am really good at saving money. Also Sara Jane Nice, our elopement planner, was an angel, without her we would've been lost and probably spent unnecessary money. We picked that budget because we wanted to make sure we were not going crazy but that we made sure we still had some fun.
6. What were your top three priorities when planning your wedding?
Priority one making sure the day of the ceremony was set in stone.We are pretty easy going but we wanted to make sure there were not too many bumps on that day so we could just relax and get married. Sara Jane created an itinerary for us that was set to a T on where we were supposed to be at what time. And that took a lot of stress away. I'm telling you she is amazing.
Priority two was making sure our photographers were comfortable and well taken care of. They traveled out all that way we wanted to make sure they had a wonderful trip as well.
Priority three was making sure we had a car to get around with. We wanted to adventure as much as we could.
7. What did you each think the first time you saw each other on your wedding day?
Breonna: I was so excited I thought I was going to pass out. We did a first look so I got to see how handsome he was from the back—my heart was beating out of my chest. Carlos does not like to dress up so to see him so snazzy was insane to me. He looked so handsome and dapper. I felt like the luckiest chick that ever lived. At that moment, I couldn't believe I would get to spend the rest of my life with this insanely handsome man. The burgundy made his skin glow and he looked breathtaking.
Carlos: I thought she looked beautiful.The second we stepped off the plane into Scotland the excitement started and that was like the cherry on top.
8. What personalized details did you add when writing your own vows?
Breonna: I added in about our first "hangout" and how he barely spoke two words to me because he was so nervous, then one of his best friends drunkenly interrupted and his nervousness turned to embarrassment then he wouldn't stop talking hahaha. I also added how I always believed in true love(I watch way too many romantic comedies) but I had never seen it in real life until I met him. It sounds cliche but meeting him was like finding a piece of me that had been missing and I didn't even know. I promised to always support him and make him heart-shaped pancakes like I had since we started dating. I promised to continue to grow and see the world with him.
Carlos: Relocating across the country was stressful and terrifying. I remember waves of sadness coming over me on our drive out, but every time I looked to my right I felt okay because she was right there. She has shown me that being complacent is dangerous and she has opened my eyes to just how beautiful life truly can be. I also peppered in some silly stories about not leaving my socks on the couch and that I'll make sure she has her morning coffee so she doesn't turn into a gremlin haha.
9. Breonna, who was your dress designer and can you talk about your dress shopping experience?
My dress designer was from Anomalie. The dress shopping was super smooth and easy. If I had a question they would get back to me in a matter of hours. Everything was personalized and 100 percent my thoughts turned into a beautiful 1 of a kind dress.I have always known that I did not want a traditional white dress and finding them was amazing! After seeing my dress design drawn I cried my eyes out. There was one major snag after receiving my dress, even though I had sent exact measurements, it came about 3 sizes too big. It had a lot of intricate details and finding someone to fix it was quite difficult. I thought I would have to look for another dress and was absolutely devastated. However, Anomalie helped every single step of the way to help remedy the mistake and sent me to a seamstress near me that worked absolute magic! She changed a bit of the design so that it fit my body shape better and once it was all done it fit me like a glove. I have never in my life felt so beautiful. I still put it on when I'm having a bad day! Susan Kolar from Easton Pennsylvania saved my dress and Anomalie helped through the entire alteration and fixing process. So, overall, even with the huge bump, the shopping experience was amazing. Anomalie was very hands-on and made me feel important and Susan Kolar I can not say enough nice words about her, she is beyond talented and kind. She helped take a lot of the stress off.
10. We love the vibes of your wedding! Why did you two decide to elope and why to Scotland?
We got married in Fairy Glen on the Isle of Skye in Scotland. We originally were going to have a \"traditional\" wedding but the whole time looking into details and such something felt off. I asked Carlos if he would be ok eloping, truthfully expecting him to say no but he was just as excited as I was. What made us choose that particular spot was actually the story Stardust. It's a movie but originally was a graphic novel. The movie is one of my absolute favorites and when I moved in he had the graphic novel sitting on his shelf. Throughout our relationship stars and stardust have been a big thing for us. Our first date was at Griffith observatory. When we first started dating, we worked opposite shifts so we would leave notes around our apartment for each other. (we still do this, I'll sneak some in his lunch box whenever I get a chance) and we would always sign it, \"to my star\" or \"my beautiful stardust.\" There is an old story (that actually explains the red string we used in our ceremony) that says soulmates were once one star that fell to earth and separated but what eventually helps them find each other is this invisible red string. So we are all just made of stardust. So that special detail, plus the story Stardust. Stardust, the story, was shot in Isle of Skye, Scotland. So we honestly chose it right away because it felt like the place that showed our love the most.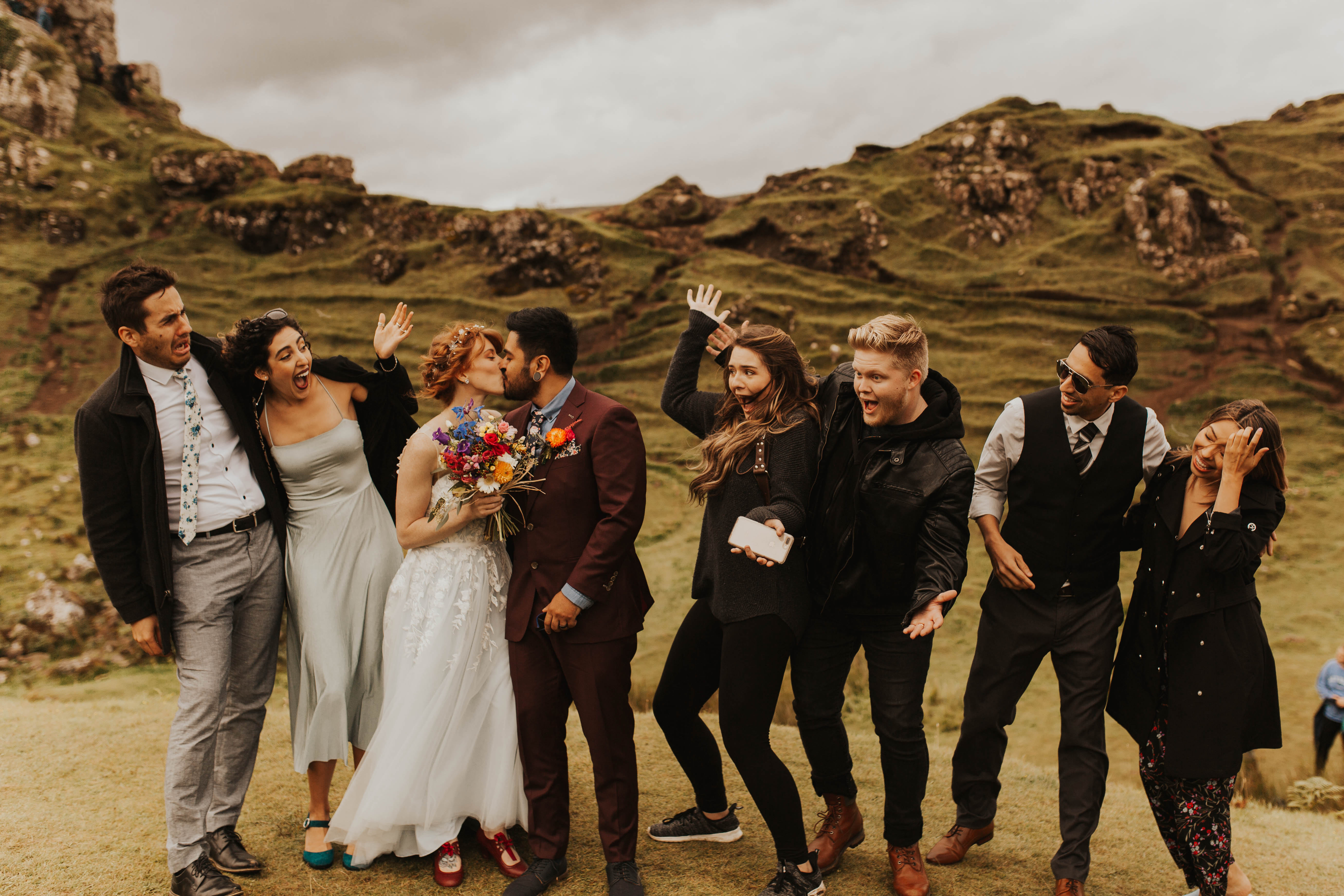 11. Did have any guests at your wedding? If so, who and why?
Our witnesses who signed our marriage license were our wonderful photographers and videographers—who are now our very good friends, Emily and Brandon! Carlos also had his two absolute best friends and their girlfriends there. My best friend was supposed to come, but, a few months before, his older brother passed away. It was very sudden and rocked all of us pretty hard, so, understandably, he was unable to attend. We invited them because we couldn't imagine taking that step without the love of our friends with us. As you may see in some photos, two of my sisters watched the ceremony via Skype.
12. It appears you included some Scottish wedding traditions in your day, can you talk about those?
What we included in the ceremony actually were a combination of our heritages. I am Italian and Carlos is Mexican. In both cultures, they tie a lasso around the bride and groom to bind them, falling in love with the old star/red string story. We took that idea of the traditional lasso and made it our own. The drinking from the cups is a Scottish thing they call drinking from the quaich. Although that is very Scottish, it is also a Mexican tradition, which is why we picked those beautifully decorated cups. They represented Carlos's heritage and we took a good swig of Scottish whiskey, which felt like fire going down my throat haha, to pay respect to the beautiful land we were celebrating on. We had a non-religious ceremony so our celebrant told us we needed to come up with a symbol to tie up our ceremony. I researched both cultures thoroughly so as to pay respect to both our backgrounds. We also walked in a circle, which is part of Scottish folklore. It was said to have been built by fairies so you have to walk in following the path, then make a wish to them in the center and walk out backward for the wish to come true.
13. Why would you suggest hiring a videographer?
That day will be ingrained in your heart and mind forever, but having that video to pop on whenever you want is irreplaceable. You get to see your day from the eyes of everyone that witnessed it and, no matter how many times I watch my video, I break into tears. It is a beautiful memento that I would recommend to everyone. By having that video, you get to relive that beautiful day over and over again.
14. What is your favorite memory from your wedding day?
Breonna: Do I have to pick only one? Haha, hmmm, my favorite memory is dancing at the pub after our ceremony. The pub hired us a live musician free of charge and he played all night for us. Scotland is truly the most wonderful place I have ever been. The people there were all so genuine and kind. Carlos is not a dancer but he got up and danced with me in my beautiful fairy dress with our friends and some people from the pub joined in as well. It was like a scene out of a romantic movie and although the whole day was my favorite, that is something that really made it magical.
Carlos: My favorite thing was riding in the minibus toward Faeries Glen. Seeing the countryside and listening to our driver tell old stories was such a magical build-up to the moment I'd get to marry my girl.
15. What's your top tip to all soonlyweds out there planning their weddings?
As cheesy as it sounds, make sure it is what you want. The day is about you and your soon-to-be spouse's love and commitment. Expensive things and crazy extravaganza do not matter. All those things fade with time but true love never will. Allow others to give their opinions, but make sure, at the end of the day, whatever you decide is about your love for each other.
16. Who were your favorite wedding vendors and why?
All of them! They were all amazing.
Emily and Brandon Lahmann, our videographers and photographers, are the most talented and fantastic humans you could ever hope to meet. They make every moment about you and your spouse and they catch the moments you don't even know are happening. They're genuine and their work is unparalleled because they take every single shot with love in their hearts.
Halde Pottinger, our celebrant, is one of a kind. His goofiness and wit added such a beautiful charm to our day. My husband and I are super silly people and meeting Halde was like coming home to an old friend. He takes the time to get to know his couples and makes the ceremony 100 percent about them.
Sara Jane Nice, our wedding planner, made the whole elopement smooth as butter. She was always there to answer questions and, honestly, she bent over backward to make every single little detail perfect. For example, I really wanted to eat somewhere with live music and nowhere had it that day. I was bummed but said, eh, no worries, wasn't meant to be. But Sara Jane was not taking that, we asked for so little because we wanted it to just be simple and fun so she wanted every single thing perfect for us. I can not say enough nice things about her and her team. She helped every single step of the way and made the entire trip possible.
Shiloh Bed & Breakfast owners, Sheila and Malcolm—the people we rented our Airbnb wigwams from—were great. The place is one of a kind and it seriously added the cutest little touch to our trip. I'd live there if I could! On the day of our wedding, we came back to our wigwam and Sheila had left us fresh towels with a bucket of champagne and roses and a sweet little note. I am telling you, the people in Scotland have the most beautiful hearts. As my husband will probably tell you, I am a very tender-hearted person and just how sweet and kind the people in Scotland were had me happy crying the whole trip because my heart couldn't take it, lol, I'm a chump.
Sligachan Hotel, our reception venue! They do not take reservations but made us this beautiful special wedding table because Sara Jane had told them we were coming. It was a beautiful surprise because we were not expecting any of this. They bought flowers, paper hearts to scatter all over and beautiful candles. They also hired a musician free of charge just for us, the musician refused to take a tip and told us that playing was his wedding gift to us. He had never met us before! I am telling you people in Scotland I will never stop saying have the most wonderful kind hearts.
Last but not least, Robert Kyle of Skye Minibus Tours. He drove us around our entire wedding day. Telling us beautiful stories about everything around us. He picked us up at our wigwams, took us to the Glen, then to the pub then back to the wigwams. He was the cherry on top of the perfect day. He has such a beautiful kind spirit, we knew from the moment we met him that we were in good hands.
17. Anything else you'd like to share about your wedding?
Carlos and I are complete opposites in every single way; from growing up on different coasts to our generations and how we were raised( we are 7 years apart) down to our hobbies. This polar opposition we have however seems to make us flow that much more perfectly. Where one of us lacks the other picks up the slack. We have been together for 5 years and continue to teach each other new things all the time. The growing together makes the ordinary that much more magical, We have somehow found that balance between madness and beauty and once you find it you will never want to let that feeling go.
To watch more wedding videos by Lahmann Film Co., click below.