This Couple Announced Their Pregnancy at the Wedding Reception
There are some wedding videos that are just so emotional, so over-the-top or so absolutely stunning, we feel they deserve a bigger accolade on our site, like the title of Love Story of the Week! The moment that first caught our eyes—let's be real…our hearts!—was when Nicole knelt down in front of Michael's daughter Sienna to promise to love her as her own and for the rest of her life. If you don't tear up at this touching moment, you may want to check that you still have a heart.
Watch the video by The Quail & The Dove and then scroll on for an inside look at Nicole and Michael's planning process, tips and vendors!
1. How did you two meet?
Michael and I met online while I was in college. There was a spark between us but I was young and didn't know what I wanted. Michael just got out of a long term relationship so there was no rush. The timing was not right in our lives when we first met. Although the flame was short-lived, the spark never extinguished between us. After college, I moved back to my hometown in Connecticut while Michael stayed on Long Island. We reconnected three years later on Instagram. He messaged me saying that he has been trying to find me for the past three years and couldn't believe that my photo randomly appeared on his explore page on Instagram, he found me! It first came across as creepy, but his intentions were sweet and genuine. We spent hours on the phone reconnecting. This was when I discovered he had a beautiful little two-year-old girl in his life. He captured my attention with a very old fashioned style of chivalry. He sent me letters in the mail, flowers, gifts and always preferred hearing my voice on the phone over texting. After several months we decided to give our relationship a real chance at love and started a long-distance relationship in August 2017.
2. How did the proposal happen?
On our two year anniversary, end of the summer of 2019, Michael planned a weekend getaway to our favorite spot at his father's cabin in upstate New York. His father has two properties, a gorgeous log cabin on 45 acres and a ranch with 65 acres. We drove 6 hours with our 4 dogs and two horses from Long Island. One morning we tacked up our horses and went for an all-day trail ride and then came back to his father's property that had 45 acres of open fields. As the sun was beginning to set over the country hills Michael wanted to race his horse to the top of the hill. His plan was to have us race to the top where he would then ask me to marry him. I immediately ruined that plan by saying I did not want to race. He insisted that he needed to run as fast as he could, little did I know what his plans were and that my adrenaline junkie boyfriend needed a thrill prior to asking me to marry him. I waited at the top of the hill while he walked down the whole field to the bottom. During this time, my horse grew sour with the idea of being separated from the other horse and began to dance in place. As my horse's impatience grew, so did mine, when Michael returned I was over it and started to walk my horse away from him back down the hill. I still had no idea what he was planning to do. He caught up to me and convinced me to stop and look around at where we were, riding our horses in the country with the golden sun. By the time I was done admiring the scenery, he had pulled the ring out. Then I realized what he has been trying to do back up at the top of the hill. So I tell him to put the ring back in his saddlebag and race me to the top of the hill because now I needed the adrenaline rush. We ran our horses as fast as they could go in the sun-kissed country fields, once we reached the top, he pulled the ring out once more where I tell him "yes", from horseback! We spent the rest of the sunset galloping around the fields hand in hand.
3. What are each of your favorite things about your relationship?
Michael: Some things that make this relationship so special to me is how accepting Nicole has been from day one about how important my daughter Sienna is in my life. Nicole understands the depth of Sienna and My relationship and has only made efforts to preserve that bond between us by building her own personal bond with Sienna herself. Her and Sienna met when Sienna was only two years old, so its remarkable to see parts of Nicole developing in Sienna's personality as she grows. I'll never forget walking into Sienna's room one of the first times Nicole was spending the night with us early on, and Nicole and Sienna were sitting in a rocking chair under a lamp reading a big book of Dr. Seuss stories. They didn't know I was there for a good ten minutes before I walked in completely. It was nice to just soak up the view. I knew then this was worth it to go all in. This always has been such great reassurance to the type of mother she will be to our future children. This was a big fear of mine that was wiped clean without a second thought. Another feature of this relationship that lights me up is working our ranch together. Whether it's traveling to pick up new horses, or working them in our pens, or just cleaning up around the barn/paddocks together, it has just been time invested rather than spent together. Working together builds our empire stronger and higher every day. A few years ago, we assigned each other nicknames Buck and Roo. Our style of horsemanship comes from a vaquero style of horsemanship where the horseman are called Buckaroos. She started calling me Buck, so I called her Roo. In our relationship, our nicknames complement their meanings. The name Buck means cowboy and the name Roo is of English origin and means Lover of Life or Love of Life, which just fits her to a T because she also happens to be the love of my life.
Nicole: I love how Michael is my rock through everything, I can without a doubt say that if I was to become crippled today that he would stick by my side and never leave. He is so incredibly in tune with me, more than myself sometimes, and always lets me know that he is here for me. Another favorite of mine is that this relationship has challenged me in so many good ways. Coming into the relationship I had no farm experience and lived a typical lifestyle. Over the years he has taught me what it takes to take care of a working ranch, let me tell ya it ain't easy! There are no days off, every animal on the property is depending on you to get taken care of, but we sure do love every second of it. This relationship has brought out my motherly side that I honestly didn't even know I had. I grew up with such a small family that I was never around small children so I had no idea what I was doing when it came to taking care of a two-year-old. Michael helped me bring out that nurturing side that made me love and appreciate him even more.
4. What was the first thing you did as an engaged couple?
The first thing we did as an engaged couple is ride our horses as the sun went down. It was by far the prettiest sunset we have ever witnessed. After we went back to his dad's ranch house on the property and told everyone the good news. As the sunlight continued to disappear we all had a barbecue outside. Once the sun was down we had a huge bonfire and stuffed ourselves with roasted marshmallows and s'mores. The next morning we got up as the sun was rising, sat on the wrap-around porch and sipped our coffee. We then went to this hidden waterfall that only locals know about, relaxed and cooled off in the water. It was the perfect 24 hours of being an engaged couple.
5. What was your budget and how did you decide on it?
Our budget for our wedding was $20-25K. We knew we wanted to do a destination wedding in California because most of our immediate family lived there. So we had to take some of that budget and plan it into travel expenses. We also knew that we did not want a big wedding, just wanted our immediate family, which helped us save money with less guests and allocate our investments into a few finer things.
6. What were your top three priorities when planning your wedding?
One of our top three priorities when planning our wedding was location. We wanted to make it easy for our guests to be able to drive to the location from where they currently lived. They were coming from Los Angeles and Temecula so Idyllwild was perfect driving distance. The scenery we were looking for was to be in the mountains with lots of pine trees. The location and vibe that we were looking for is what we like to call "comfy cozy", which in our minds looked like a cabin in the woods where the whole family can sit in front of a large fireplace and have dinner for our wedding night. The next priority was finding the best crew to capture our most special day. We spent most of our time looking around for the right videographer and photographer. We knew that the day was going to go by so fast that it was important to have something to look back on throughout the years and even be able to show our kids. The last important factor to planning our wedding was to incorporate our passion for horses and the ranch life we share together every day. We would have liked to have our wedding on a ranch but that become costly very quickly so we compromised on having the horses be apart of our special day the morning after. We connected with a ranch (The Manzanita Ranch in Anza, CA) that was kind enough to take us out all morning on horseback through the mountains of the Pacific Crest Trail. We had to get our first ride in together on horseback as newlyweds, and it was the ride of a lifetime!
7. What did you each think the first time you saw each other on your wedding day?
Nicole: I helped him pick out his outfit but haven't seen the whole thing together on him, plus he added touches that I didn't expect. We also decided that we wanted to have our first look be when I walked down the aisle. So when I saw him for the first time as I was walking down the aisle all I could think about is how did I get so lucky to find this handsome cowboy. It was such a powerful and moving moment that it was hard to not get teary-eyed. It was a moment that reassured me this man was the love of my life and this is exactly where I belonged.
Michael: The only thing I knew about regarding her get-up was her boots. That was the only thing I was allowed to help her pick out, which were super cute booties with fur lining the rim. Seeing her walk down the aisle, stopped my heart, literally. I had zero intentions of getting choked up and thought I had all of my emotions in check and locked up to get through the ceremony calm and cool. As soon as I saw her, the waterworks burst. I couldn't help it, just soaking up the view of our families, the scenery, Sienna by my side and my sister (our officiant) on my other side, and seeing the most beautiful bride in history walking down the aisle of manzanita branches, I just lost it. It was just surreal to see my Roo, in that essence, she nailed it in every way possible.
8. What personalized details did you add when writing your own vows?
We actually both wrote our own vows the day-of. In my vows to Michael, I talked about our love story because it was so unique to other relationships. From the very start, we had to figure our relationship out while raising a two-year-old. Needless to say, we went through a lot of hardships together that made our relationship stronger so I talked about how I want to marry him because I want to love him through every bump in the road. I also told him something I wrote to him in my first letter to him, I said that I have a wild soul that craves someone else to be able to run wild and free with. I told him that he has been the only one crazy enough to run alongside me.
Michael: She pestered me for weeks to write my vows, and it's not that I had better things to do, I just like to shoot from the hip. I related myself to a lost cowboy because when we first met, that's exactly what I was. I related her freckles to my journey and told her her freckles taught me how to memorize the night's sky, which happens to be the greatest gift for a lost cowboy. Through the constellations on your skin and sparkle in your eye, I am able to navigate through the darkest storms to always find my way into your arms. I've always had a weakness for green eyes and freckles, I'm super lucky to have somehow landed my dream girl carrying so gracefully both of those attributes.
9. Nicole, obviously, your words to Sienna all had us tearing up…what made you decide to give special vows to her during the ceremony?
From day one with Michael, I knew that Sienna was the light of his world and that if I was to commit myself to him that I would also be doing so with his daughter. I am not Sienna's biological mother so I did not have to be apart of her life, but I chose to be so I needed her to know that on that day I was not only making a promise to her father but also to her. I fell in love with that little girl and I needed her to see that.
10. Michael, we love the western vibes of your wedding day look (as well as the other men in your party)—what made you come up with this look as opposed to the more traditional groom suit?
This look is just me. I had one mandatory requisition on my wedding day and that was to be married in my boots. The rest just kind of fell together from other components that are staple items in my normal day to day look. My "everyday" consist of my boots, my belt, my knife, my wild rag, and my Bailey Beaver hat. The pants I wore on the wedding day were a pair of Joseph Abboud Chino's, an express shirt, a custom tweed vest, and a cashmere Ermenegildo Zegna overcoat. Being in a suit just is not who I am, and since everything else in our wedding was catered to our souls, I knew she would like me best dressed like me, her horseman, her cowboy, her Buck.
11. On that note, Nicole, you looked stunning and we're obsessed with your dress! Can you talk about your dress shopping journey and how you ended up in this gown?
The first time I went dress shopping was in New York City with my mother. We went to a couple of stores and tried on several dresses. I went in knowing that I had my mind on having long sleeves so I only tried on dresses with sleeves. I also knew that I would like A-line dresses the most. However, every store only had fitted dresses with long sleeves. I tried them on anyway to keep an open mind and liked only two of them but wasn't in love with them, so we left that day knowing that I definitely wanted an A-line dress with long sleeves. I thought that I had the best chance of finding something in one of the largest cities and when I walked away with nothing I started to look online. I found dresses that I loved online but was scared of committing because I didn't get to try them on and these dresses were not cheap. I didn't even consider looking around where I lived but my mother-in-law recommended this shop that her long time friend owned so I decided that it couldn't hurt to at least look. I made an appointment with my mother where I told the stylist exactly what I was looking for. One of the biggest issues I was running into was that my wedding was a month away so it limited my options. They brought out dresses that were way too big, had long sleeves but were not A-line. They told me to keep an open mind because they have a dress that I might love but it doesn't have long sleeves. I decided that it couldn't hurt to try and when they brought it out I immediately saw why they thought I would love it. It was tulle A-line with a flower appliqué that reminded me of a woodland fairy. When I tried it on it fit me almost perfectly, I was not swimming in it like most dresses I have tried on, the only thing it was missing was the long sleeves. So I had a hard time falling in love at first until they told me that they could hand-make sleeves for me. They reassured me of all my concerns and even painted a picture in my head of what it would look like, so I said yes to the dress with the customizations.
12. What's your top tip to all soonlyweds out there planning their weddings?
Be YOU! Don't try to impress anyone in the world except each other. On your wedding day, as harsh as it sounds, your main focus will be on your person, so if you're surrounded by an environment that speaks to who you are inside, you will be comfortable and truly be able to release your soul on that day to fuse with your partner. Nicole and I were completely captivated by not only each other but the fairytale setting that we put ourselves into. Our most expensive investment for this day was our Videographer and our Photographer, everything else came after that and we are so so happy with how we allocated our budget to make the capturing of our experience such a priority. We will have those memories to keep alive for multiple generations ahead. Truly Magical.
13. Why would you suggest hiring a videographer?
Hiring a videographer to us was the most important part of our wedding because it allowed us to relive that special day again and again. We also hired them for an extra day, the morning after the wedding, so they could capture us doing something that we love to do together, riding horses. Jim and Melissa, The Quail and The Dove, we such an amazing couple to work with. Their synergy together and the way they worked just seemed so effortless and polished. They also ended up helping us plan how our wedding day was going to flow and gave us very good advice. Since we decided to save the money by not hiring an event planner we were blessed to have them as our advisors. They were the ones who we spent the most time planning and every time they wanted it to feel personal by video chatting with us. They always spent a significant amount of time with us too, making us feel super comfortable with them. Which helped us tremendously the day of the wedding, we felt like they were long time friends and not strangers, thus helping us feel natural in front of the camera. Just super fun and genuine people to work with. We couldn't imagine our day with anyone else.
14. What is your favorite memory from your wedding day?
Nicole: My favorite memory of the wedding day was walking down the aisle. Having my father next to my side, being surrounded by the ones we love, and seeing Michael standing there next to Sienna with tears in his eyes was honestly so magical.
Michael: My favorite memory of the wedding day was Nicole's unexpected vows to Sienna. This was such a gut-wrenching moment that almost had me to my knees. I'll never forget that moment for as long as I live.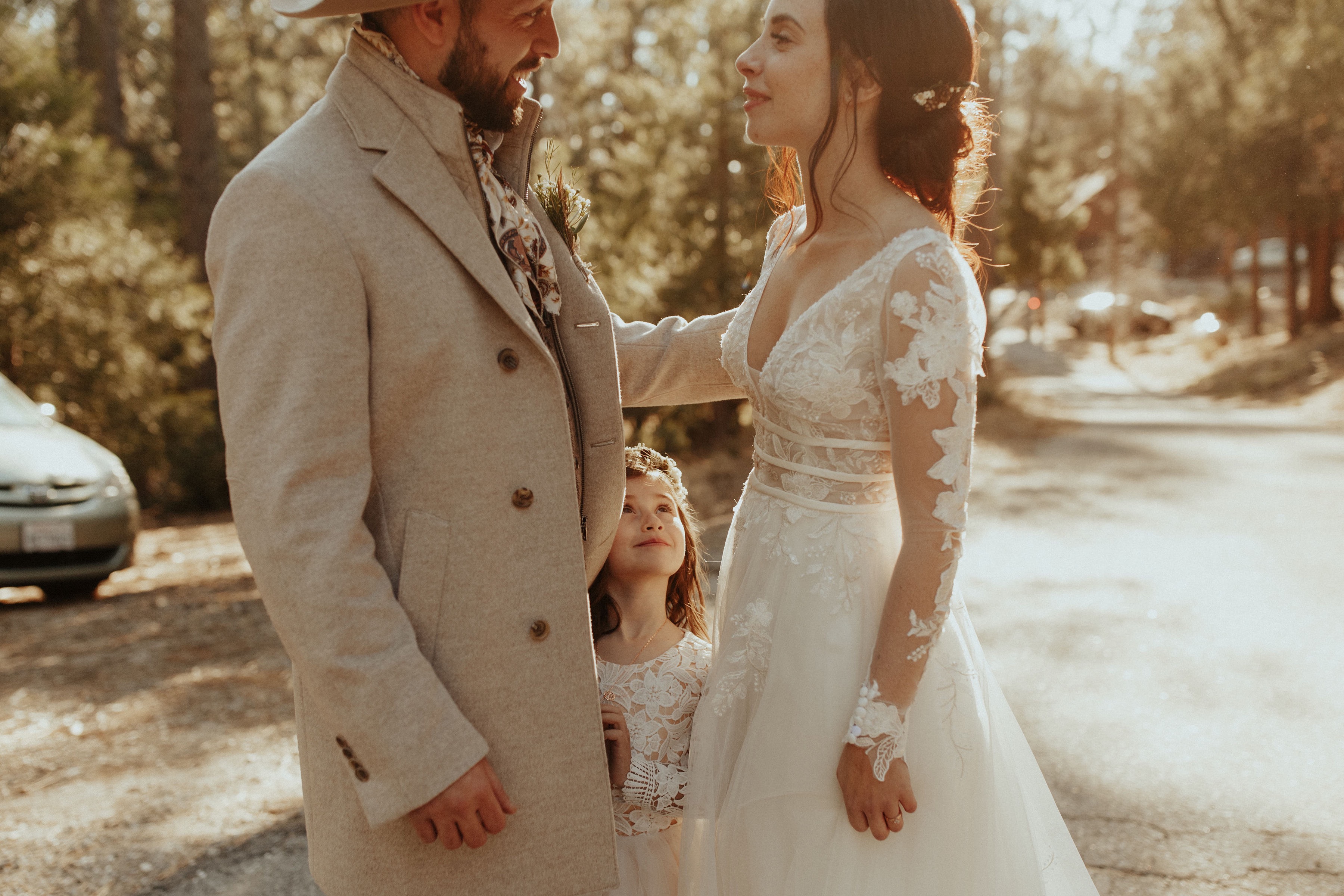 15. Your ceremony looked incredibly intimate—were all your guests there? If not, why did you decide to do it this way?
We only invited our immediate family members—mothers, fathers, brothers and sisters—and we wouldn't have changed a thing about it. We wanted our wedding to be like a holiday gathering or dinner, not a party. When you invite extended family and friends, the list gets long very quick which means that you have to entertain all these guests. We didn't want to feel that we had to make sure we said hi to the hundreds of guests and take time away from our time together because the day goes by very quickly. This also helped us save money and not worry about hurting anyone's feelings about not being invited. Every person who attended genuinely wanted to be there. They were our A-team, our closest relatives.
16. Congratulations on the newest addition to your family!! How excited was everyone to hear at your reception that you were pregnant? And, how happy were you to be able to announce this while surrounded by all your favorite people?
I was most excited to share this news because it was killing me that we had to keep it from the ones we loved, especially my mother. The reason why we wanted to have a wedding sooner rather than later was because we wanted to start a family as soon as possible. Everyone was so happy to hear that I was expecting, some were surprised, while others had a feeling we were pregnant. The sweetest reaction we got was actually my brother, I look over at him after we announced it and he is crying. Not like teary-eyed, but you could tell he had a hard time controlling what he was feeling. It was so touching because the last time I saw him cry was when we were kids.
17. Who were your favorite wedding vendors and why?
We were very happy with our florist, Lily of the Valley Florist. We were planning this wedding from across the country, which had some challenges, like not being able to see the vendors in person. The owner, Ziggy, took the time to talk to us extensively over the phone of what our vision for the decorations and flowers looked like. We also wanted to add our own pheasant tail feathers to the bouquet. The evening before the wedding, the owner stayed after hours to wait for us to bring the feathers. She also took extra time in decorating our store-bought cakes with florals. Our musician, Mike Wilson, exceeded our expectations with his musical talent. We were looking for an old country vibe and Mike was exactly that with his own unique twist. We had him sing our favorite song, and his version was actually better than the original. He even came out to play for our wedding when it was his birthday—I don't think many musicians would do that. Another favorite vendor was our hair and makeup stylist, Kylee from Beautiful Day Brides. She did makeup for three of my family members, Sienna's hair and my hair and makeup while she was 38 weeks pregnant! She had such a calming vibe that created almost a spa-like atmosphere. She listened very carefully to all my requests, which was to make sure my freckles were not covered up, that was my biggest fear with getting my makeup done. She managed to give me a flawless complexion without covering up my freckles. She pulled off exactly the look that I was aspiring for with my hair and my makeup. She made me and my guests feel their best on that glamorous day. The last shout out goes to our photographer, Seth. We met him last summer when he photographed Michael's sister's wedding. After that day, we knew exactly who we wanted to hire for our wedding. He was basically adopted into our family as one of our own. It was most definitely advantageous for us that Seth had previous experience with our family from a prior event because he knew everyone's personalities and knew exactly what to look for and from whom at all times. Seth blended with our vibe so hard, he even agreed to saddling up with us and mounting up on horseback with his gear the next morning to get even more pictures for us! His last ride, according to him was back in grade school when he would go to "horse camp" over the summers and ride with his friends. The trailhead he was about to embark on was not for the faint-hearted. Seth crushed it though. Though he remained cautiously optimistic, he had a blast and captured more moments for us that meant the world to our wedding.