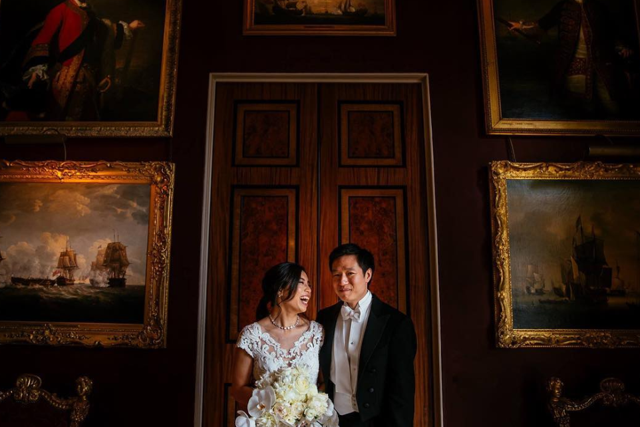 How A Bad First Date Turned Into Forever
Nikki and Adrian's love story is proof that you could have a terrible first date and a week later, everything changes. 😍 Watch Nikki and Adrian's video by The Wedding Filmmakers and read on for more on their untraditional (but still very adorable) love story.
The Love Story
How did you meet and fall in love?
It was not a fairytale meeting! We met at a wedding. Adrian was a groomsman and I was a close friend of the groom. He essentially tied himself to me throughout the night and at the end, offered to take me to supper (after his friend stole my cab). Clad in a black tie at a local coffee shop, we had pork rib soup. Conversation highlights included me asking him how he came to start his business; to which he responded, \"I would like to tell you, but I can't remember right now.\" The finale of the supper: he forgot to bring his wallet out of the car to pay for the meal. I was not impressed that evening. Adrian called me up the next week to ask me out on the \"redemption date\" where he picked me up and took me to one of the best restaurants in Singapore: Waku Ghim. The date ended up lasting 12 hours with whiskey, clubbing, and attempting to find a late-night foot reflexology joint at 6 a.m. to soothe our aching feet. We saw each other every after (as long as we were in the same country) with our dates getting longer and longer each time (12 hours became 32 hours…) so we decided it had to be a lifetime. :)
Tell us how the proposal happened.
We had just landed in Bangkok en route to Europe when we found out our business was going through a crisis. We canceled our trip, and spent the day trying to find solutions to be problem. Unfortunately, none of the ideas panned out, and at the end of the day, we got the final word that we were shut down indefinitely. Adrian was devastated as he came into our room at the Mandarin Oriental to give me the news. This was a business that he built from ground up from the age of 26. I took his hands and promised him that we would be okay, and that I would stand by him forever, reminding him that money was just money and we could always make it back. We cried together for a while, and then Adrian went off to the bathroom. Thinking that we were in for the night, I opened the room service menu and started undressing for the evening. Suddenly I realized that Adrian was coming down the staircase of the room holding a ring box. He told me that he had planned to propose in London, where he spent most of his childhood, but as we saw from the day, life seldom worked out according to plan. He said that many people want to ride in the limo with him but few people would take the bus with him, and he knew that he could get through anything that life threw at him as long as I was by his side. He said that even though this wasn't the place he had thought of initially, Bangkok was still the place that we first vacationed at together and that he was not going to go back to Singapore without making me his wife. With tears in my eyes, (I always cry), I said yes.
The Wedding
Tell us about something that was creative or unique to your wedding.
David, the unflappable butler of Goodwood House, said that our wedding was the first time that GH had seen a yum seng (Chinese traditional way of wishing luck, happiness and children for the couple). We had LED bracelets printed with our monogram that flashed with the LED seats, all in sync with the music. A saxophonist played along with the trance DJ. Our friends and family were really talented and one of them did an impromptu acoustic rendition of \"Nessun Dorma.\"
Describe the moment from your wedding day that stands out to you the most.
The wedding ceremony was officiated by two of our friends and they killed it, along with the best man's speech. Best speech we ever heard.
How did you find your wedding dress? Who designed it and how did you know it was the one?
The dress was by Zuhair Murad. I needed a dress that had two looks as I had two weddings (one in Singapore and one in England). The Lexie by Zuhair Murad had a skirt that I could pop on or off, making it look different each way. The inner dress was sleek and fitted, the way that my family thought I should have my dress, whereas the skirt was voluminous, massive and sculptural, the way that I liked it. It was both classic and romantic.
What made your wedding feel extra special to you and your partner?
That everyone made the journey to celebrate with us. We made it like summer camp with loads of activities over a weekend, like golf, car racing, clay pigeon shooting, yoga, pilates a HIIT class, and a beautiful hangover brunch in a stunning tent in an English garden on a summer's day.
How did you find your filmmaker and what made you choose them?
We were recommended Adam and Rachel of The Wedding Filmmakers through our photographers, Chris and Verity, and we never looked back. Our one regret was that we didn't fly Adam and Rachel out to Singapore to cover our SG wedding!
What is your favorite moment from your wedding film?
Hard to pick! I loved the sound editing.
What do you think the \"secret sauce\" to your relationship is?
Agreeing to stay together. We fight a lot and our relationship is not easy, with working together and being married. But the right person is the person who sticks around. We've centered our marriage around faithfulness and forgiveness. Even though we forget sometimes, the idea is to choose each other every day.
What is the No. 1 piece of wedding planning advice you wish you would have known?
It's never too early to start!
See the full list of vendors for Nikki and Adrian's wedding here.