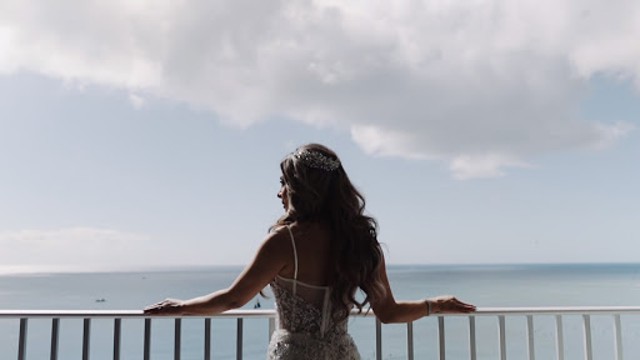 An Expert's Guide to Wedding Day Posing
Everyone has had that moment of \"what do I do with my hands??\" when taking a photo, right? If you haven't, you're clearly Hunter McGrady or Chrissy Teigen. The last time you want to feel awkward when taking photos is your wedding day, after all, these are the photos you will look back on for years to come. However, we know how hard it can be to feel comfortable in front of the camera, so we tapped an expert: Dan Kumeiko, the co-owner of CineStory Films, a wedding photography and videography company.
Kumeiko says it's best to have a few rehearsed poses up your sleeve that you're ready to whip out at a moment's notice so he's listed out the four best poses for both brides and grooms to practice before your big day.
Bridal Pose 1 - Natural Beauty
This is the most natural pose for brides. Stand straight and face the camera with the bouquet right in front of you. You can elevate this pose by looking down at your bouquet rather than at the camera or by looking away to show off your profile. A few snaps with a soft smile can also add a sense of elegance.
Bridal Pose 2 - Look Back At It
This pose works for all dress types. You will stand up straight with your back facing the camera so we're able to capture the details of your dress's beading, buttons, lace, etc. If you have your bouquet, you'll hold it in front of your navel. As another option, you can look over your shoulder, but not at the camera, to give us that gorgeous profile.
Bridal Pose 3 - Adjustments
This pose can be alone or a small group shot. You'll be readjusting and reenacting certain moments of your prep, like your hairdresser spraying hairspray, your mom buttoning your dress or you putting on your jewelry. You might need to reenact these moments a couple times so your photographer can capture the movement so feel free to just act natural by talking and laughing with your gals.
Bridal Pose 4 - The Window
This is a silhouette shot most brides love to have in their photo albums and their wedding highlights films. For these shots, stand with your back to the camera or facing completely to the side. Standing against the light allows a contrast between the highlights and shadows, so your silhouette will clearly stand out. This pose is already dramatic, but, to pump up the drama, you can look away from the camera.
Groom Pose 1 - The Power Suit
In this pose, you will face the camera head on. Your hands can be placed in four different ways: casually crossed in front of him, clasped behind his back, hands in his pocket or arms crossed. This allows the photographers and videographers to get the every detail of your wedding day attire. You can smile straight ahead, turn to head to get your \"good side\" or turn on your best \"Blue Steel\" impression.
Groom Pose 2 - The Chair
This pose acts more like a candid, a moment frozen in time. You will sit on a chair putting on your shoes or reading a letter from your soon-to-be spouse or even just pondering the bright future you have ahead of you!
Groom Pose 3 - Adjustments
These shots are more candid and not overly posed. We just let you get ready, so you'll put on your bowtie, fix your cufflinks and put your jacket on. We want you to feel like we're simply documenting the things you would already do rather than directing you.
Groom Pose 4 - The Silhouette
This is our favorite pose! You'll feel a sense of mystery, serenity and drama when you see this shot. The pose itself is very simple. You will stand straight on or to the side in front of a large light source with your hands placed naturally at your side or in your pockets.
Get more from CineStory Films here and below!