Holidays are always the best time of year, especially when your BFF/sister/work wife gets engaged. Twinkly lights with a side of ~true love~ and a fancy party on the horizon? Sign me UP.
The Love Stories TV team rounded up our favorite gifts for brides-to-be so you don't have to waste time trying to find the perfect holiday gift, bachelorette party gift, bridal party gift, and any other wedding gift you might need. Less Googling means more celebrating. 🎉
Oh, and if you are a bride-to-be reading this, please use this list to treat yourself this holiday season because YOU DESERVE IT.
Want to win everything on this list? Enter our 2018 holiday giveaway here. Blessed!
1. Buffr Engagement Ring Protector
That sparkly new ring that is gorgeous, yes, but it also needs protection. Buffr's engagement ring protectors keep that new bling safe and sound during the toughest workouts. Plus, they're super cute.
Buffr, $14.95
SHOP NOW
2. 12-Month Birchbox Subscription
Why not get a gift that keeps on giving? Birchbox's 12-Month subscription box is perfect for brides-to-be who are looking to up their beauty game ahead of the big day. Each month, she'll have a chance to sample niche and high-end beauty goodies. Every time she opens the box, she'll think about what a great friend you are, obviously.
Birchbox 12-Month subscription, $110
SHOP NOW
3. Helena Quinn Silk Robe
We can confirm this buttery soft robe will be the best thing in your closet. And if you don't believe us, ask Julianne Hough, Olivia Culpo, or Gina Rodriguez, all of whom are fans of Helena Quinn. Her silk robes are the perfect getting ready accessory for brides-to-be.
Helena Quinn Porcelain White Silk Robe, $198
SHOP NOW
You know, for that bride who is obsessed with her dog. (Or cat!) In addition to creating incredible wedding invites, Carly Martin, the artist behind Clementine Studio, makes the prettiest custom pet portraits. Send in a photo of your fave pet and Carly will send back a hand painted watercolor portrait. Cutest!
Custom pet portrait, $125
SHOP NOW
5. House of Catherine Hand Painted Bridal Jacket
Head to House of Catherine for Insta-worthy bridal jackets. Each item is hand painted and made-to-order, so it's unique and special, just like the bride.
Custom faux leather jacket, $275
SHOP NOW
6. Fiore Press Personalized Letterpress Stationery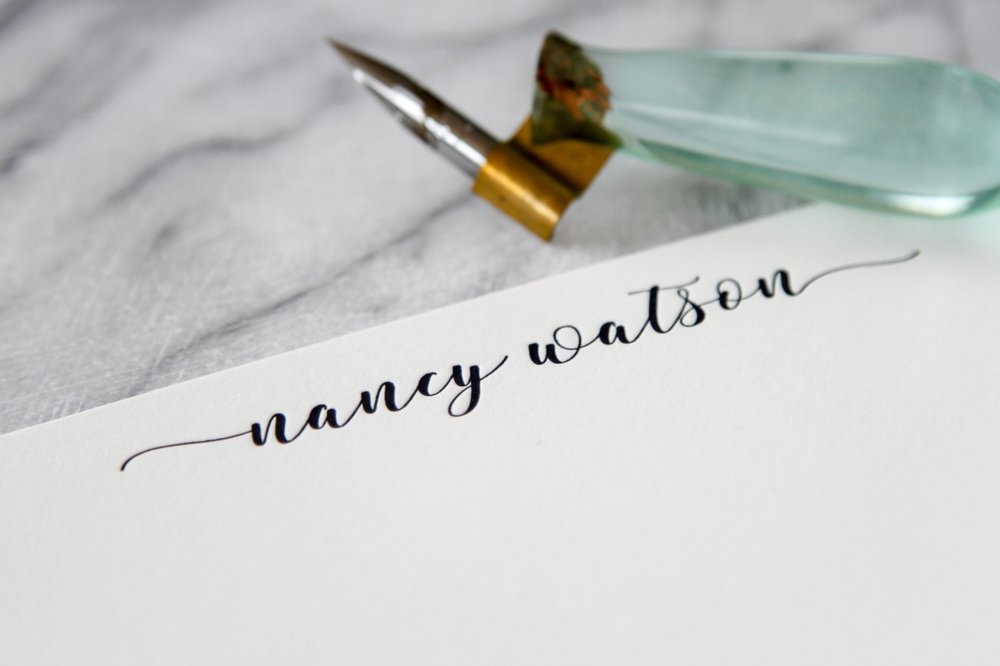 Fiore Press' personalized letterpress stationery is perfect for bridesmaid proposals, wedding showers, and for all of life's special moments, like a new home or baby. Available in script, classic type, monogram and custom calligraphy, each card is carefully printed one at a time using an antique printing press.
Fiore Press Letterpress Notecards, $175
SHOP NOW
7. Caudalie Holiday Gift Set
Give a glow-up! Caudalie's natural, paraben-free skin care is great for all skin types. The ex-beauty editors on our team love giving Caudalie products to friends and family as gifts year-round. For the holidays, Caudalie's gift sets are perfect for your favorite bride-to-be. Try the Mini Masque Trio and the Brightening Heroes sets.
Trio Mini Masques, $18
Brightening Heroes Set, $79
SHOP NOW
Want to win everything on this list? Enter our 2018 holiday giveaway here.